SLALEY HALL GOLF DAY RAISES OVER £10,000 FOR TWO OF THE REGION'S CHARITIES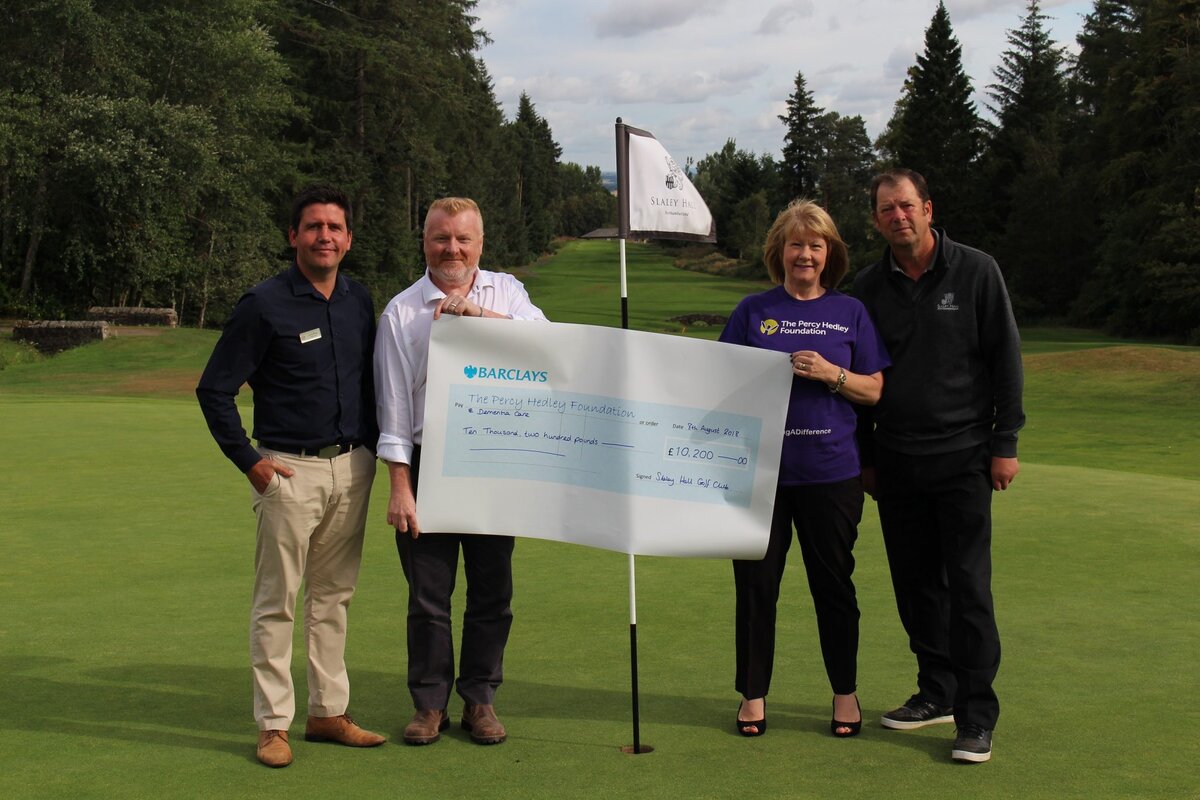 LUXURY Northumberland hotel and golf club Slaley Hall has raised £10,200 for two North East charities after hosting its annual Captain's Charity Golf Day.
This year, Slaley Hall Golf Club supported Dementia Care, a local charity delivering a range of services for those whose lives have been affected by dementia and The Percy Hedley Foundation, which offers accommodation, education and support to disabled people.
The big golfing calendar event saw 24 teams battle it out on the renowned Hunting course before enjoying an impressive three course dinner in the Kielder Suite with activities, prize raffle, silent auction and evening entertainment.
A number of local businesses and well known individuals sponsored the event including Paul Collingwood, Malcolm MacDonald and Paul Blake who also hosted a live talk-in on the day. Highway Traffic Consultants took the top spot on the leaderboard with a winning round of 102 points and over the course of the day, more than 120 delegates gathered to raise funds for the deserving recipient charities.
Dr. Fraser Quin​, chief executive at Dementia Care, said: "We would like to thank the staff, members and guests at the Slaley Hall charity golf event for their fabulous donation of £5,100. We can assure everybody involved that every penny will go towards the great work we do here at Dementia Care. Without the support of such a great organisation as Slaley Hall Golf Club, we would not be able to offer as many activities and events for those with a diagnosis of dementia at day care, supported living and in residence at Dementia Care. A huge thank you to all involved."
Maria Hallett, fundraiser at The Percy Hedley Foundation, said: "The Percy Hedley Foundation is truly honoured to have been chosen to benefit from the Captain's Day at Slaley Hall Golf Club. The generosity of everyone on the day was astounding and Captain John Lee OBE really pulled out all the stops to make sure he maximised the benefits to both charities. It was an absolutely fantastic day and we can't thank the golf club and everyone involved enough."
John Lee OBE, captain at Slaley Hall Golf club, added: "Thank you to all who attended our annual Captain's Charity Golf Day at Slaley Hall and for their kind donations, as well as our sponsors. We raised much needed funds for these important and outstanding local charities which will help in areas of increasing need."
To date, Slaley Hall Golf Club has raised more than £250,000 for local charities selected each year by the Captain.
Slaley Hall is home to two award-winning championship golf courses including The Hunting and The Priestman, testing both the novice beginner golfer and the seasoned golfing veteran, both with panoramic views of the Northumberland countryside.
Adult season membership prices start from £375 for a points-based membership and £680 to join the Slaley Country Club. To find out more or to book your tee time, call 01434 676 554 or to enquire about the free junior memberships, email [email protected].
Picture caption: L-R Slaley Hall's Jonny Mould, Dr Fraser Quin from Dementia Care, Maria Hallett from The Percy Hedley Foundation and John Lee OBE, captain at Slaley Hall Golf club.