Kolibri Drinks, the future of soft drinks is bespoke!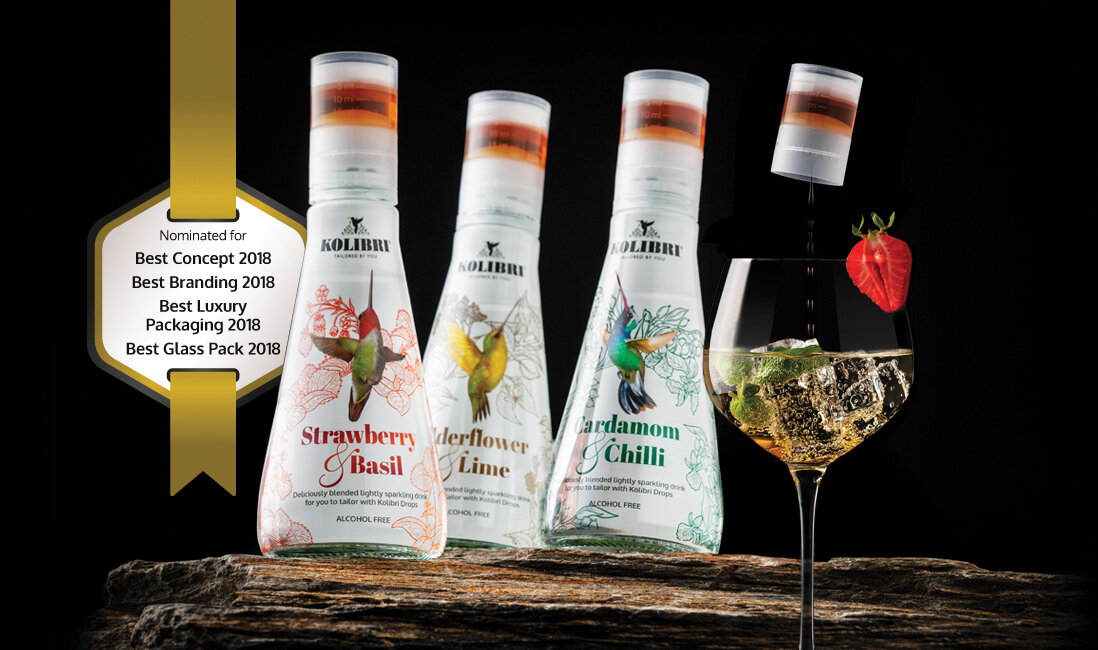 UK soft drinks manufacturer Kolibri believes that bespoke is the future and launched the world's first bottled drinks which allow consumers to control the amount of sugar in their drink. The category of customisable drinks could be a game-changer for consumers who want healthy, great tasting and indulgent options but also new experiences, engaging ritual and theatre.
The adventurous, alcohol-free range was designed exclusively for prestige hospitality where guests want it all. Abstain and indulge in equal measures. Thoughtful yet flexible menus they can further adjust to preference. Multisensory food and drinks experiences but with the ability to control ingredients to match their individual needs. Yes, guests want to have their cake and eat it too.
Kolibri Drinks come in three different flavours: Elderflower & Lime, Cardamom & Chilli and Strawberry & Basil.   These botanical drinks don't contain sugar, but the cap on top is filled with an amber Agave blend which is naturally sweet.  The nectar can be released into the drink to create a dash of sweetness with a hint of caramel and zesty tang of lemons.
Co-founder and creator Kamila Sitwell believes that major suppliers have become complacent offering short-sighted and inadequate solutions to the sugar challenge such as artificial sweeteners, diluted recipes and smaller packaging. "Sea of sameness out there with different flavours at best! Sugar, like any natural ingredient, is only a problem when it's over-engineered in recipes. Kolibri are designed to give discerning guests complete control over their drinks' taste and the sugar content.  And the best part, the 'twist in the cap', is that Kolibri has no more than 40 Kcal per bottle even when all the Kolibri Drops are used. Indulgence with a clear conscience, don't you agree?!"
The taste of these drinks has been praised by Douglas Blyde, the renowned gastronomy advisor and drinks critic.  'I like the liberation of being able to accurately adjust the level of sweetness in my Kolibri according to mood or even the richness of an accompanying dish. This 'dosage' is comparable, believe it or not, to Champagne, where a base wine is finished with a 'liqueur d'expédition' which determines whether the formerly bone dry sparkling wine becomes Brut, Extra Sec, Extra Dry, Demi-Sec or Doux…'            
If you would like your guests to experience Kolibri drinks, please explore our website www.kolibridrinks.co.uk and contact us for more information.