Fogarty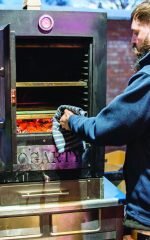 "It simply made sense for us to work with John and use the Fogarty Oven as we appreciate the work that has gone into building such a fantastic oven. Our Chefs and students will begin exploring the many possibilities that this cooking technique provides us and our customers with". Gary Hunter Westminster Kingsway College and Vice President.
"I chose to put The Fogarty Oven in my kitchen for reasons being, efficiency, it adds a new dimension of flavour to the menu is well built and was also designed with the chef in mind"
"Aside from the direct grilling you would normally associate with the Fogarty Oven you can also use the optional custom ceramic shelf as a deflector plate for in-direct cooking and smoking" Brad Carter Michelin star Chef
The Fogarty Charcoal Oven (aka the Beast)is the new revolution of solid-fuelled cooking that's set to change the way you cook on charcoal forever, 100% British so built to last, great ease of use with a simple air vent control system, original and sleek design that has a large cooking capacity and holds 6kg of coal in one light, for consistency and temperature controllable charcoal cooking you need this in your kitchen, contact us today for more info and to book your free demo, when you see the Fogarty Charcoal Oven first hand you will want him in your kitchen.
The Fogarty Oven is easy to use, cuts service time and produces outstanding results, has versatility and flexibility in abundance so when being compared to all other Charcoal ovens or grills wether it's on craftsmanship, quality design and proven performance or even unique looks the Fogarty Charcoal Oven wins hands down and at a better price.
I make these myself by hand with all materials sourced in the U.K. each individually made from high grade cast metal and stainless steel so very durable whilst still looking sleek in design my price is very competitive and I also offer a stainless steel mobile trolley stand on lockable castors as an optional extra.
www.fogartycharcoalovens.co.uk
07544032122 • [email protected]