Holiday Inn Mayfair Unveils No. 3 Berkeley Street Bar & Lounge in the Heart of London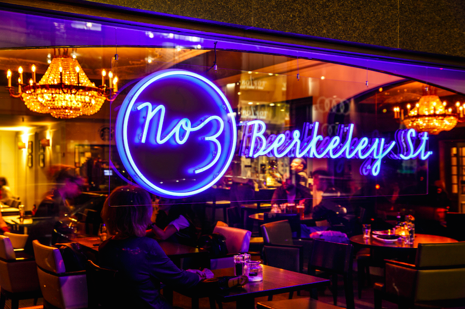 The Holiday Inn Mayfair has unveiled a brand new bar and dinning area, No. 3 Berkeley Street situated in the heart of London.
The stylish No.3 Berkeley Street, named after the central London corner on which the hotel sits, offers guests a relaxed all-day contemporary lounge bar boasting a view of one of the capital's busiest streets.
Just a few steps from Green Park, guests can enjoy a range of Starbucks coffees and hot drinks as well as a fully equipped bar and dining area from 6.30am to 10.30pm on weekdays and 7.30am to 12.30am on weekends. Signature dishes on the modern British and European menu include Herb Crusted Portobello Mushroom Fries with Blue Cheese Dressing, Superfood Salads, Grilled Sea Bass Fillets and 21 day aged West Country Rib Eye Steak.
Guests can also take advantage of No.3 Berkeley Street's great value 'Two Dine for £39.99 with a Glass of Wine' set menu.  Starters in this special offer menu include Chicken Liver & Brandy Pâte with toasted bloomer, thyme butter & red onion chutney or Salt and Pepper Squid with lemon & garlic aioli. Mains range from Gourmet Prime Beef Burger, Fish & Chips or Cauliflower Cheese Tart.
No. 3 Berkeley Street provides comfortable bar seating as well as small and large tables for intimate or casual dining under glamorous brass and crystal chandeliers.  The spacious lounge offers the perfect setting for a business lunch, an after work drink or a wind down dinner in bustling Mayfair.
Holiday Inn Mayfair has also unveiled a refurbishment to the lobby and communal areas as well a refresh to some of the bedrooms.
No. 3 Berkeley Street is now open, Holiday Inn Mayfair, 3 Berkeley Street, London, W1J  8NE.
Holiday Inn Mayfair: This contemporary hotel offers a comfortable base in the heart of London's theatre and shopping districts and is within walking distance of many major sights. The hotel is moments from Green Park Station and just a short walk to St. James's Park.
For more information visit www.holidayinn.com/mayfair