COMMERCIAL OUTDOOR EQUIPMENT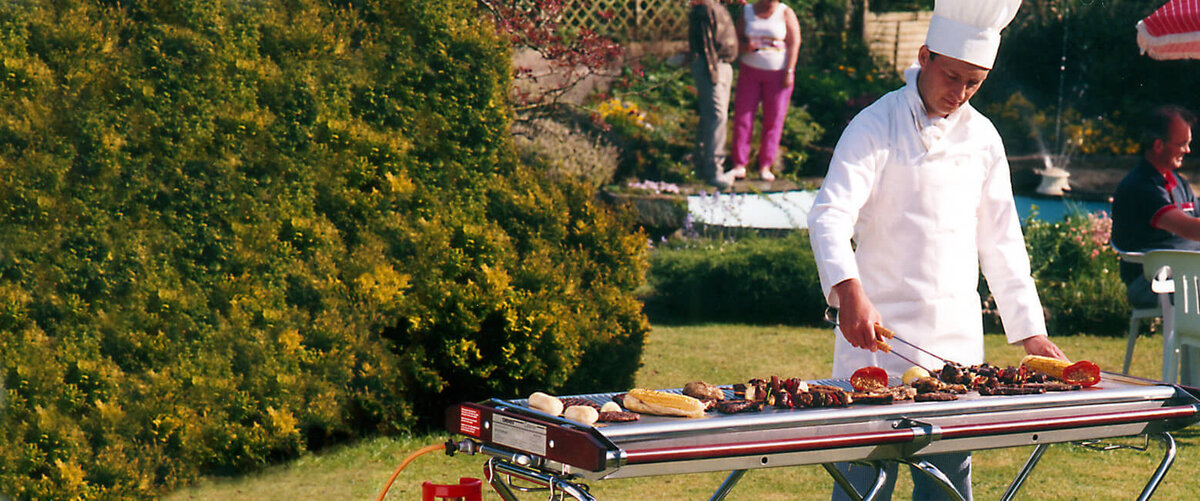 Cinders barbecues are Powerful, Dependable and include a commercial warranty. Pay-back is measured in hours and lifespan in years, making for a very satisfactory business investment. The versatility of Cinders equipment helps you to take every opportunity from our Great British weather, with unbeatable minimal storage and speed of set-up.
GREAT OUTDOOR PROFITS
Almost any outdoor space can be used to promote your business, or to increase net profit directly.
Our GOP (Great Outdoor Profits) page aims to be a resource of ideas and experiences, and covers wider topics than barbecue.
We need your experience of types of furniture, heating, lighting, logistics, menu ideas, pitfalls, event opportunities, amusing downfalls you turned into benefits, in fact anything which could be useful to others in the industry.
All CINDERS barbecues are manufactured in our modern 15,000 sq ft factory near a small village in North Yorkshire.
The controls are from a respected German company, and never fail. The 304 and 316 grade stainless steel is typically Swedish and modern laser cutting technology sits comfortably alongside specialist machinery we developed ourselves.
Local staff work throughout the year to hand craft your product, whose successful 1984 design is clearly recognisable through many years of upgrades and thoughtful refinement.
"We don't make them to look pretty'', says Simon Fort, Works Manager, "we just pile in the quality and they turn out like that''.
Simon, and Quality Co-ordinator Denise Hodgkinson have been with us for over twenty years, and both hold firmly to production standards that are sometimes thought old-fashioned.
When BS 5750 Quality Registration wasn't a requirement, we registered and used it as a benchmark. When ISO 9001:2008 replaced it, we went straight for the most stringent level and brought in the British Standards Institute for CE Approvals and EC Registration.
We supplied the Technical Officer to the Gas Barbecue Association during the development of European Standard EN 498:1997 (now 2012) and consulted over critical issues with BSI, which did most of the work.
We were the only manufacturer on the European Rental Association panel which revised their LP gas safe Code of Practice.
This is why CINDERS products are renowned for RELIABILITY, DURABILITY and LOW MAINTENANCE.
01524 262 900 [email protected]