BACARDÍ DECLARES JULY 'RUM MONTH' WITH CALENDAR OF NATIONWIDE RUM EVENTS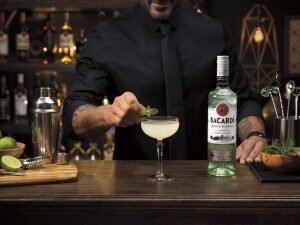 In celebration of National Piña Colada, Mojito and Daiquiri day, for the month of July, BACARDÍ, the world's most awarded rum brand, is launching Rum Month.
From Mojito bikes and Pina Colada discos to Daiquiri tours, consumers will be able to explore the diverse and dynamic spirit that is rum, enjoying over 40 events in bars around the UK.
The following dates will be paying homage to these timeless cocktails:
National Piña Colada Day, 10th July

Tip: head to Coupette, the French inspired bar that's taken the East London cocktail scene by storm, and enjoy a drink from the venue's dedicated Piña Colada menu1 such as the award winning2 Champagne twist on this classic 
 National Mojito Day, 11th July
Tip: try a Mojito sorbet at HMSS Bristol or head to participating Slug & Lettuce venues for a free3 Mojito when the weather hits 20 degrees or above #sunsoutrumsout
 National Daiquiri Day, 19th July
Tip: book a Black Cab Daiquiri tour around the eclectic bar scene of East London where you'll visit notable nightspots including (Discount Suit co, Cocktail Trading Co, Super Lyan and Sager and Wilde)
Due to its versatility, BACARDÍ has inspired cocktail pioneers to invent some of the world's most famous recipes including for these three cocktails. As the world's most awarded rum, with more than 674 awards for quality, taste and innovation, BACARDÍ is well positioned to bring together the UK to celebrate all things rum this summer.
Shervene Shahbazkhani, UK Head of Advocacy at BACARDÍ said: "We're very excited to bring Rum Month to the UK this July. What better way to celebrate one of the world's best loved spirits and its diversity and versatility, than an entire month dedicated to rum events and festivities? We hope that these events will attract current rum enthusiasts but also convert new ones."
In addition to Rum Month, BACARDÍ will also be bringing its very own Rum Truck to the streets of the UK. The Rum Truck will visit various locations across the country, providing the opportunity for rum lovers to sample a variety of delicious rum based cocktails. Keep an eye on Instagram, Twitter and Facebook for more information and whether the Rum Truck will be in a city near you!
For more information on Rum Month events and tickets and for full event listings please visit the DrinkUp London website here: www.drinkup.london/rummonth
1.Coupette's dedicated Piña Colada menu is available for one week from 9 – 15th July
2.Coupette's Champagne Piña Colada was voted 'Cocktail of the Year' by over 70 of the UK's top bartenders and industry experts at the CLASS Bar Awards which celebrates talent and diversity in the UK bar trade
3.Offer begins 1st June and ends 1st August. Head to https://www.slugandlettuce.co.uk/ for full T's & C's