Epic Bike Ride Props Up Bristol Charity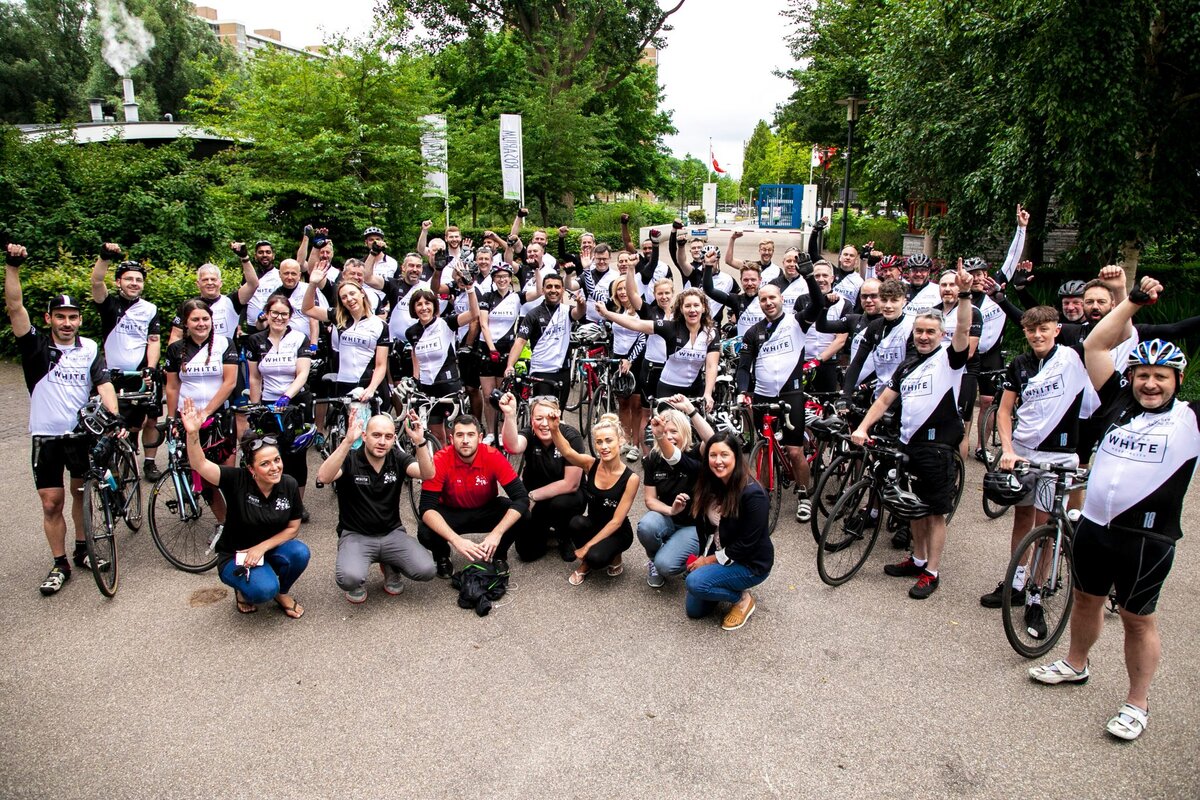 A team of hospitality and health club experts all linked to the South West's leading four-star hotel, health club and spa completed a gruelling 560 km bike ride to raise money for PROPS – a Bristol charity which provides a range of services, opportunities and support for those with learning difficulties.
Billed as 'A2B', the ride saw a 46-strong peloton peddle its way across four countries in four days from Amsterdam to Bristol. Taking in the Netherlands, Belgium, France and England the ride crossed the Clifton Suspension Bridge finishing at Cadbury House in Congesbury, North Somerset.
Team Black & White Hospitality – whose main partner is Marco Pierre White and CEO is Wrington-based Nick Taplin, have now raised over £60,000.
Riders included Ed Hadwin sports commentator from BBC Radio Bristol, John Hirst, boss at Destination Bristol and an assortment of riders from drinks wholesalers Matthew Clark and Lloyds Bank with Yate-based Hathaway Transport providing the support vehicles.
Nick said: "This was an amazing achievement by all those who took part and all riders' stamina was pushed each day. There were a few falls, bumps and bruises but the whole team did incredibly well.
"To ride across the Clifton Suspension bridge at the end of the ride was an amazing spectacle and one all the riders will remember for a long time.
"We do a lot of work across our local community supporting good causes so it's poignant that the ride will finish in Bristol which is where PROPS carries out the majority of its work.
"This will be the third ride Black & White Hospitality has been involved with, after which we would have raised in excess of £150,000 for charitable causes.
Chris Miller, director at PROPS said: "To have such a large team of people undertake a ride of this magnitude is quite overwhelming and we're hugely grateful to all those who took part.
"At PROPS, we believe that all young people in our community should have the opportunity to lead fulfilling and participative lives, on both a social, and a professional level, regardless of any cognitive or physical disabilities.
"By providing access to practical learning, worthwhile experiences and skills development for these young people, we will achieve this goal. The money raised will help us continue the work we do and we wish everyone the very best of luck in their training."
For further information about the charity please visit https://www.propsbristol.org/
PROPS is a Registered Charity No. 1089951
To donate please visit https://mydonate.bt.com/teams/blackwhitea2b18