Opening Day for The Grand Central Hotel, Belfast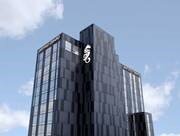 Brand New 7th Property for Hastings Hotels
The newest addition and the seventh hotel in the Hastings Hotels portfolio, Grand Central Hotel, Belfast is celebrating it's opening today.
Standing 23-storeys high on Bedford Street, this will be Northern Ireland's tallest hotel and promises to bring a new era of glamour and grandeur to the heart of Belfast. This Grand Central is the second of its kind; a contemporary reincarnation of a Victorian hotel with the same name that stood on Royal Avenue from 1893 to the 1970s. Inside, historic stories inspire contemporary design and luxury is elevated by local authenticity. The new branding for the hotel incorporates the Seahorse, a nod towards Belfast's Coat of Arms and a celebration of the City's Maritime history. A legend reborn, the Grand Central Hotel is a new jewel for Belfast with an old soul.
Accommodation
At Grand Central Hotel, guests will be welcomed into rooms and suites offering privacy, relaxation and comfort. The Grand Central Hotel offers 300 intricately designed luxury bedrooms including 10 suites, all with spectacular views over the city. Thoughtfully crafted as a cityscape sanctuary, all rooms are contemporary in design with touchable, tactile fabrics and state-of-the-art finishes. Furthermore, each room and suite is complemented by modern amenities and the famous Hastings Hotels Cloud Bed.
Drinks & Dining
With three exceptional restaurants and bars on offer, guests will have the option to wine and dine in easy going elegance and true grandeur style.
For a more relaxed gourmet offering, guests can head to The Grand Café to enjoy a coffee and bistro bite or simply a glass of wine. With its own private entrance off Bedford Street, The Grande Café is open to both locals and hotel guests and will serve from 6am until late at night. Showcasing a vibrant yet stylish design, the café's walls of windows flood the space with natural light whilst the sweeping counter and assorted seating invites all manners of get togethers.
A further homage to Belfast's maritime history, the Seahorse Bar & Bistro on the first floor will offer two distinct spaces within one exquisite venue. From the phenomenal cuisine and cocktails to the lavish fabrics and fittings, guests will find quality in every angle. The distinctive design includes art deco nods, high ceilings and a dramatic sense of space. As the vibe inside shifts from day to evening, the Seahorse's real allure comes through as a dual destination with multiple moods.
The jewel of Grand Central will be The Observatory, opening in September 2018. Located sky-high on the 23rd floor, this awe-inspiring cocktail lounge provides incredible panoramic views over Belfast and beyond. From pavement to panorama, this is the highest bar in all of Ireland The Grand Central is all about showcasing the very best of Belfast, and with decadent décor and stunning vistas, the Observatory does that in high-definition.
Facilities and Location
With modern luxury and high technology facilities, the Grand Central is a most impressive and inspiring destination in which to do business in Belfast. There are two meeting rooms – the Blackstaff and the Farset, named after the rivers of Belfast, two boardrooms and the Panorama Suite – a spectacular, 80-seat reception room. Each event space can be adapted for a wide variety of business and social events, from meetings to conferences, private dinners and press conferences.
Given its central location, the Grand Central Hotel offers excellent transport links and is within walking distance to the local train and bus stations and a short drive to the George Best Belfast City Airport and Belfast ferry terminal.  Set in the up and coming Linen Quarter, the hotel is a spectacular hub for exploring Titanic Quarter's history or Cathedral Quarter's charming cobbled streets. The Grand Central is perfectly placed for every city centre endeavour – from business to leisure and everything in between.
*We will be organising a Group Press Trip to experience Grand Central Hotel, Belfast from 3rd-5th August 2018. Please get in touch with [email protected] for details*