INNOVATIVE NEW RESTAURANT AND BAR TO OPEN AT BRENNERS PARK HOTEL & SPA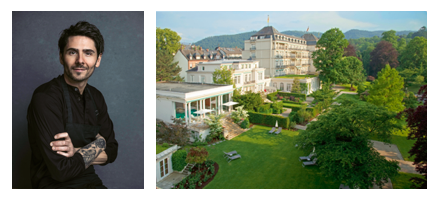 – Formality is out in the Black Forest as a chic, urban dining experience is set to open in collaboration with bright young Swiss chef Nenad Mlinarevic
– The stylish new restaurant and bar will transform the food scene in the region and offer a refreshing new destination for casual, elegant drinks and dining
The innovative new concept will be a destination restaurant and bar for guests staying at Brenners Park-Hotel & Spa and local residents alike that is inspired by the nature, history and the culture of the Black Forest with a throwback to the glamour of the 1920s. The style will be sophisticated yet refined and informal – creating a fun, social atmosphere.
The restaurant is being overseen by culinary advisor Nenad Mlinarevic – the creative young Swiss chef is considered a rising star on the German and Swiss culinary scene. His appeal will target a younger audience looking to sample a multi-cultural food experience. On-site Sebastian Mattis will serve as Chef de cuisine.
The design concept has been created by Robert Angell – whose work includes the Blue Bar at the Berkeley and the American Bar at the Savoy – as well as London based Gorgeous Group. Together they have created a distinctive interior with inspiration taken from the hotel's spectacular Black Forest setting – the enchanting scenery as well as historic culture. The new design will embrace the connection that many have with the hotel and local area and it will look back at Baden Baden's glamorous past whilst creating a new exciting future.
The restaurant and bar will offer laid-back fine dining and will be an experience for local and international clientele who value a modern, urban lifestyle. The menu will be simple with seasonal small plates, sharing plates for the table and specialities from the grill. The wine list will have an extensive selection by the glass, hand crafted beer, speciality barrel aged cocktails and a small but carefully curated selection of locally made vermouths and liquers.
The restaurant is set to open in autumn 2018. www.oetkercollection.com