ROBINSONS ROLLS OUT FOODSERVICE & LICENSED SOLUTIONS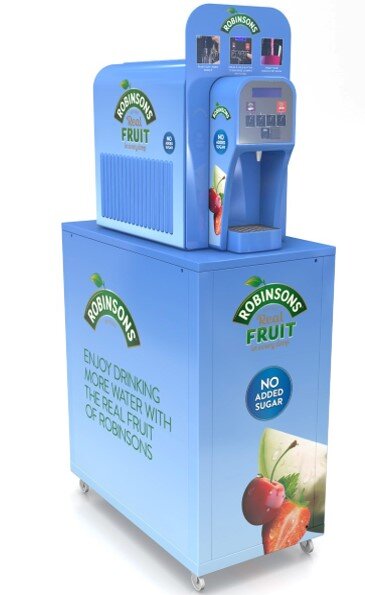 Britvic has extended the range and formats of Robinsons, the No.1 GB Squash brand[1]. Rolling out across the Foodservice and Licensed (FS&L) channel now, Robinsons will bring tasty refreshment through its new premium Fruit Cordials range, as well as a new dispense unit offering refreshing options to consumers.
Robinsons Dispense
Britvic has identified a huge opportunity for FS&L operators to offer a broader range of soft drinks in food-led venues with figures showing over a fifth (22%) of all FS&L visits include children[2]. Recent findings also show that parents choose soft drinks on behalf of their children on almost half (43%) of these occasions[3] and 79% of parents are looking for more choice for their children[4], whilst 80% want more low sugar options when eating out[5].  This really highlights just how crucial it is for FS&L operators to ensure they have a range of suitable soft drink options available.
To cater for this increased demand, Robinsons is now available in an eye-catching standalone dispense unit in Apple & Blackcurrant, Orange and Summer Fruits flavours, allowing customers to take their pick from the self-serve machine.
Russell Goldman, Commercial Director, Licensed and Foodservice at Britvic, said: "Research shows that parents are looking for more low and no sugar options and more choice for themselves and their kids when eating out[6]. Through this latest launch, we wanted to create more moments for people to enjoy Robinsons on more occasions by providing a healthier solution that all FS&L outlets can benefit from. In the majority of foodservice outlets, dispense systems are currently dominated by fizzy drinks, so we are championing choice by offering a refreshing option that goes well with food and tastes great!"
Fruit Cordial
A sophisticated Fruit Cordial range has also been introduced, offering a premium alternative for adults.  With its beautiful combinations of real fruit and botanical flavours, Robinsons Cordials will be available in glass bottles to stand on the back bar. The range, which falls below the threshold for the sugar levy, comprises of three unique and premium flavours: Pressed Pear & Elderflower, Raspberry, Rhubarb & Orange Blossom and Crushed Lime & Mint.
Originally launched into the grocery channel in November 2017, the Fruit Cordial range is now driving 34% of the premium category value growth[7], with two of the flavours listed in the top ten premium products[8], showing the benefits of stocking these cordials for FS&L operators.
Nowadays, one in three consumers moderate their alcohol intake and one in five claim to be teetotal (increasing to one in four in the under 25's)[9]. Stocking this range allows premium pubs, bars and restaurants to offer a healthy, refreshing option for the growing number of consumers looking for a delicious alcohol-free option to enjoy.
Russell Goldman commented: "After seeing the success of the Fruit Cordial range in grocery, we wanted to launch into the FS&L channel to target adults looking for a premium soft drink option, that is both low in sugar and refreshing. The cordials are made from real fruit and botanical flavours, meaning the range pairs well with food and alcohol, making them perfect for premium bars and restaurants to serve both as cocktail ingredients, as well as with water for an alternative to alcohol.
"Robinsons has been adapting and responding to consumers' changing tastes since 1823, whilst always maintaining the real juice content and high-quality ingredients credentials that keep the nation in love with its taste. We know that operators are looking for new ways to entice customers to spend more on soft drinks and these new offerings from the nation's most trusted brand[10] will help to encourage consumers away from tap water. With consumers increasingly seeking to stay hydrated and drinking an average of 35 glasses of water per week[11], these two new propositions are set to position Robinsons as a tasty 'refreshment' brand and become an integral part of the rising water occasion – creating a £49.9m opportunity[12]."
For the latest news and advice from Britvic, please visit: www.sensationaldrinks.co.uk.
[1] Nielsen Scantrack, Total Coverage, Value Sales, 52wks to 17.03.18
[2] MCA eating out panel, % visits that include children, 52WE Dec 17
[3] Britvic QSR on line research June 2017
[4] Britvic QSR on line research June 2017
[5] Britvic QSR on line research June 2017
[6] Britvic QSR on line research June 2017
[7] Nielsen Data to 31st March value sales MAT
[8] Nielsen Data to 31st March value ROS MAT
[9] Adult Drinking Habits of Great Britain 2006 – 2016 ONS May 2017
[10] GB Mintel Soft Drinks Report 2017
[11] Saatchi & Saatchi Quantitative Survey 2017, Robinsons
[12] Saatchi & Saatchi Quantitative Survey 2017, Robinsons