New owners and aspiration for Rutland Arms Hotel, Newmarket, Suffolk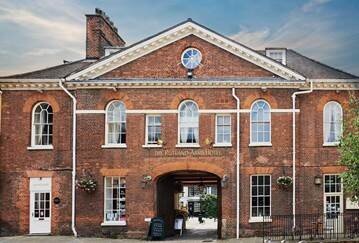 Review Hotels Ltd has acquired the 3-star Rutland Arms Hotel, located at the top of Newmarket's high street. The company, which also owns Newmarket's 4-red star Bedford Lodge Hotel & Spa, purchased the highly regarded former coaching inn for an undisclosed sum in March this year, expanding its portfolio in Suffolk.
Noel Byrne, Chief Executive at Bedford Lodge Hotel & Spa, commented: "Rutland Arms Hotel is an iconic part of Newmarket's high street and is a great addition to our portfolio. The distinctive property is built around an attractive cobbled courtyard and dates back to the 17th century. Over the next 3 years we plan to embark on a significant refurbishment programme for the hotel, which will include extensive reparation works to the exterior and interior of the building."
The historic Rutland Arms Hotel comprises of 46 bedrooms, a restaurant and bar, courtyard terrace, and conference and event facilities for up to 60 delegates, all in a convenient high street location.
Byrne continued: "Our aspiration is to bring the luxury and modern comforts of a boutique hotel into the classic setting of the Rutland Arms, to complement our current offering within Newmarket at Bedford Lodge Hotel & Spa. We are confident of the very positive impact this will have on Newmarket's high street and will further enhance Newmarket's growing tourism offering."