Grahame Gardner -Workwear solutions for all hospitality environments.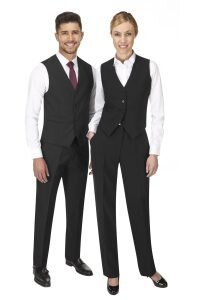 Combining more than a century of industry experience with the latest innovations in fabric, design and manufacturing, Leicester-based workwear and uniform supplier – Grahame Gardner Ltd, has positioned itself at the forefront of helping businesses across a variety of different sectors meet their workwear needs. From the more traditional and classic uniforms, through to modern, bright and fully bespoke garments that push the boundaries of uniform and workwear design, Grahame Gardner prides itself on its ability to capture an organisation's personality and ensure that any team stands out from the crowd and is a true representation of their business and culture.
The Grahame Gardner uniform collections for the hospitality industry offer an extensive range of sophisticated workwear of the highest quality and standard. Synonymous with style and innovation our exclusive ranges are ideal for organisations seeking to create a luxurious identity for staff
and enhance their brand by providing customisable uniforms throughout the entire property; from management, front of house, concierge and spa staff to housekeeping, kitchen, bar, restaurant and banqueting teams through to your maintenance and gardening staff – we cater for all departments.
With a vast range of choice, styles and colour palettes including unique options for fully customisable garments in our Vitality, Advance and GFORCE Corporate ranges, the Grahame Gardner collections present an exceptional range of flattering and stylish workwear solutions ideal for the Hotel, Spa and Hospitality environments. Our range of design options and in-house embroidery services will help bring your organisations' professional identity to life through quality, innovative garments that combine style and comfort with practicality and form. We work closely with you to ensure the garments, designs and styles are perfectly suited to your establishment. From initial consultancy to identify your requirements, through to a presentation of options, all with a FREE design service to ensure we work as part of your team to deliver exactly what you need.
Gemma Puffer, head of marketing at Grahame Gardner, said: "For more than a century we've been helping organisations bring their professional identities to life through quality, innovative workwear that combines style and function. As a family business, founded in 1906 with family values at our core, we never compromise on customer service. We truly value the people who choose to purchase our products and we'll always go the extra mile when it comes to providing the flexibility and quality they deserve.  
"We offer one of the largest ranges of workwear in the UK, providing garments in a wide variety of colours, styles and sizes, using the latest fabrics and printing technologies to meet any company's individual requirements. Not only that but our uniforms work for everyone seeking to create a professional identity for staff across an entire organisation.  
"With our long history of providing uniforms, we ensure every item we offer our customers is made to the highest quality and offers both style and comfort – something that's vital not only for the wearer during the busy working day, but crucial when it comes to making a great first impression on the customer."  
For more information please contact Grahame Gardner on:
www.grahamegardner.co.uk