Stella Artois x Water.org announces On Trade activity to help end global water crisis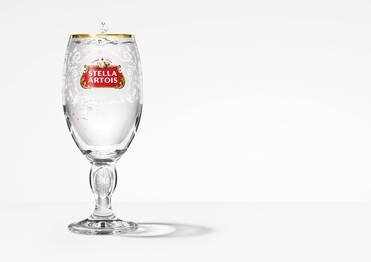 For every pint of Stella Artois purchased, one month of clean water is provided to someone in the developing world
Stella Artois outlines On Trade customers can get involved and help those in developing countries
Stella Artois, AB InBev's premium beer brand, today announces its renewed campaign in partnership with Water.org, to help give those in the developing world access to clean water. Stella Artois x Water.org calls on Britain's pubs, bars and punters nationwide to take action and join its mission to end the global water crisis.
One in 10 people lack access to safe water. Every day, millions of people in the developing world spend up to six hours collecting it – taking valuable time away from work, school and caring for families. Building on the ongoing collaboration, in 2017, Stella Artois and Water.org announced a four-year partnership to help provide 3.5 million people with long-term, sustainable access to clean water by 2020.
Helping the On Trade support the cause
To help reach this goal, for every pint Chalice of Stella Artois purchased in participating on-trade venues from 4th February to 4th March 2018, Stella Artois will help Water.org provide access to one month of clean water to someone in the developing world.
Helping its nationwide network support the initiative, Stella Artois is providing a range of point of consumption marketing materials to help customers raise awareness of the cause, and in turn boost sales.
Stella Artois is providing over 2,000 pubs, bars and restaurants across the country with table talkers, coasters, posters, video assets and social media support detailing the core campaign message – by purchasing a pint of Stella Artois, consumers will be providing access to one month of clean water to someone in the developing world. Information will also be provided to venue staff so that they can talk about the campaign to drinkers.
The campaign provides a tangible and easy way for customers and consumers to contribute to ending the global water crisis – the purchase donation mechanic means that by simply selling or buying a pint of Stella Artois, customers and consumers are supporting the cause.
Stella Artois x Water.org easily enables companies to demonstrate their social purpose, in turn helping them achieve greater consumer engagement; by working together to tackle the water crisis, Stella Artois is helping customers to align to the ideals of their consumers – creating a positive impact on society – which has been shown to boost reputation and positively impact sales.
The campaign will also be supported by Off Trade activity, PR, digital (inclusive of social), and advertising activations.
Rory McLellan, On Trade Sales Director, adds, "With the support of our customers and consumers, so far we have donated more than $8M to Water.org, helping to change the lives of more than 1 million people. We share a strong belief that a problem of this magnitude can only be solved with the help of customers and consumers coming together to work collaboratively – this is why we've created an On Trade package that not only raises awareness of the cause, but also supports our customers from a business and reputational perspective.
"We look forward to working together with our On Trade partners to make a change."
Why water
Water is intrinsic to Stella Artois. It's been integral to its 600-year brewing heritage and is one of four key natural ingredients in the Stella Artois brewed today.
More than just a key ingredient in our beer, water is a critical resource for the economic, social, and environmental well-being of our communities. AB InBev is dedicated to enhancing water access and security for people and communities – inside and outside our breweries.  We recognize the need to act as a responsible steward of water in the areas where we operate, in addition to brewing beer at the highest level of water efficiency possible.
Through its partnership with Water.org, Stella Artois is supporting AB InBev's dream to bring people together for a better world – one where natural resources are shared and preserved for the future, where everyone has the opportunity to improve their livelihoods, and where every experience with beer is a positive one. By working together, customers can be part of this dream too.