The Crazy Bear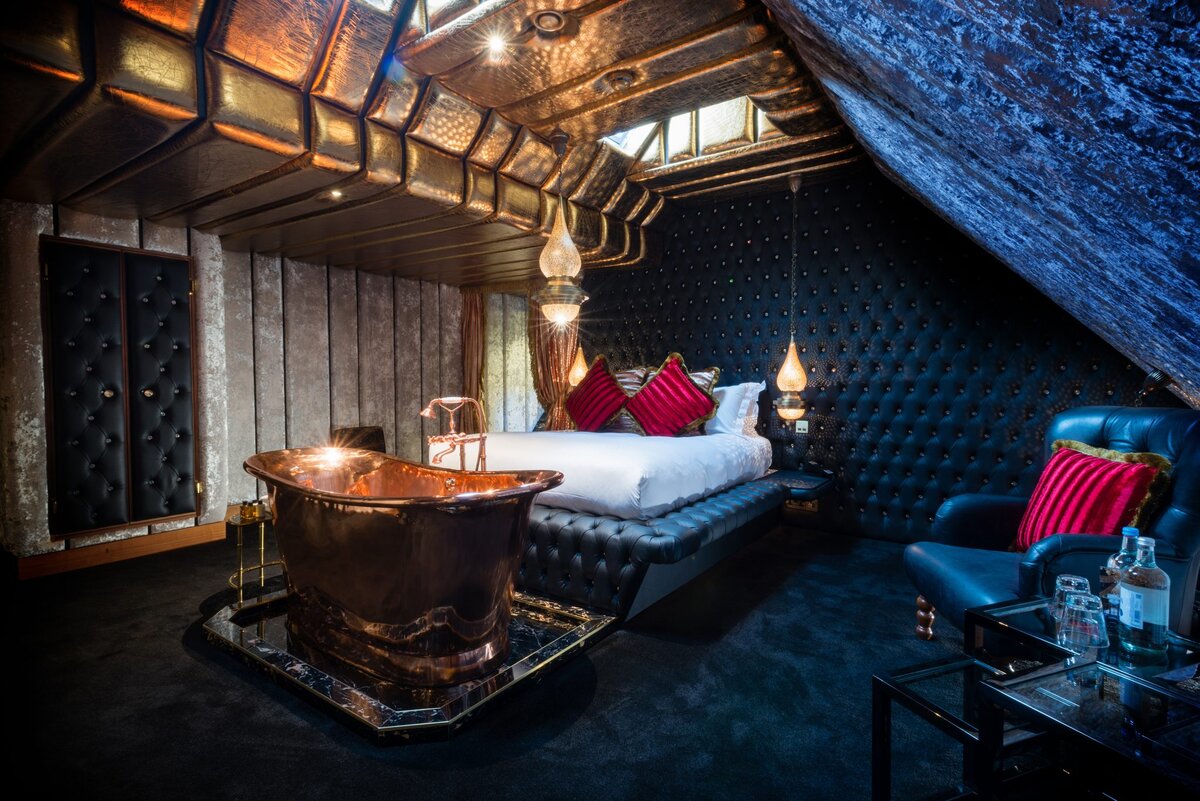 The Crazy Bear was the inspiration of its founder Jason Hunt. His initial concept in 1993, was to bring London service (with a flamboyant style) to the countryside. This concept has developed over the last 24 years and The Crazy Bear Group now comprises three truly unique venues with unmistakable character.
The Crazy Bear Stadhampton opened in 1993. A 16 century public house was restored and re-designed into one of the first gastro pubs of the time. Bedrooms were added as well as English and Thai restaurants. The Crazy Bear quickly became a destination venue, pioneering the boutique hotel industry that we know today. Over the next fifteen years a further seven surrounding freehold properties were acquired and developed to create a full-service hotel offering including spectacular private events space. Eclectic style, individually designed bedrooms, award-winning dining and inventive facilities make this a distinctive oasis in the Oxfordshire countryside. Crazy Bear Stadhampton also has its unique Farm and Farm Shop.
After ten years of development, the decision was made to expand the brand and acquire a second venue in London. The Crazy Bear Fitzrovia opened in 2004 surpassing every expectation in terms of popularity and accolades. Instant success based on the brand's acclaimed reputation propelled this exclusive Thai restaurant and cocktail bar to become hugely popular with its affluent local residents and businesses. Sophisticated design, countless awards and exemplary service make this a stylish London venue with real personality.
In 2005 the oldest documented building in Beaconsfield was acquired. The 15th century coaching inn was meticulously restored and dramatically re-designed over a three year period and The Crazy Bear Beaconsfield opened in 2008 to spectacular reviews worldwide. Located in the centre of the Old Town, as the demand and business grew, a further 10 surrounding properties were acquired and developed to create a full-service hotel offering. Opulent style, individually designed bedrooms, lavish dining options and cocktail bars make this the most decadent Crazy Bear in its affluent surroundings.
Today, The Crazy Bear is an established brand with a 24-year heritage, known for its dramatic décor, outstanding cuisine and flamboyant character – this is consistent across all sites. Each venue is very different but strongly affiliated by its pronounced branding. This is evident through repeat customers visiting multiple venues for "the Crazy Bear experience" – The Crazy Bear is not just a geographical location, it is a destination brand.
The hallmark of The Crazy Bear is its legendary design and unmistakable signature style.  The brand's unique personality attracts a vast customer demographic ranging from the super-wealthy who frequent the Group on a weekly, sometimes almost daily basis, to those who are inquisitive and want to experience its locations for special occasions, including their 'bucket-list'. Successfully balancing the demand between these customer groups has been a key factor in maintaining The Crazy Bear's brand personality for the past 24 years.
Awards
Conde Nast's Hot List for Best New Hotels in The World
Sunday Times Top Ten British Hotels
The Evening Standard's Best Bar of the Year award
Theme Magazine's Best designed and best operated Bar
The Times' runner-up for Best Bar in Southern England
The London Lifestyle Awards Best Restaurant
Bookatable's Best Thai Restaurant in London
The Times' Most Outrageous Hotel Room in Britain
Prestige Events Magazine Coolest Venue Awards Coolest Hotel Chain
For further information visit: www.crazybeargroup.co.uk
Or Press contact: [email protected],