Bacardi Brown-Forman Brands partners exclusively with The Blue Bar at The Berkeley to launch 'Out Of The Blue'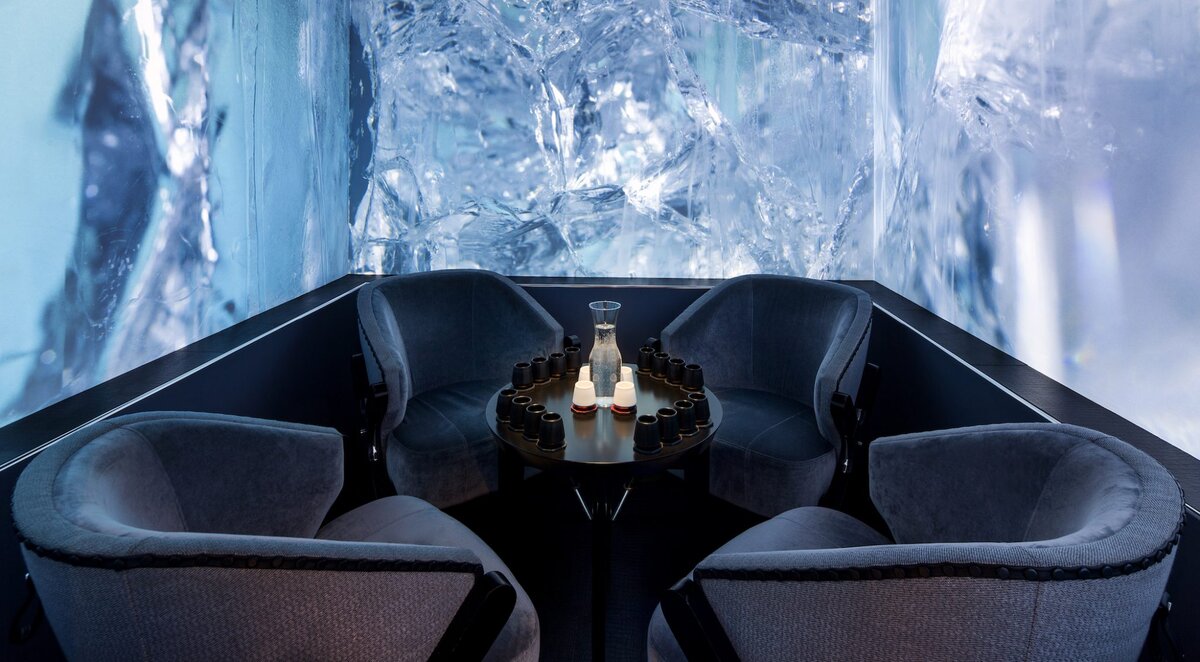 A bar experience to create an explorative journey of taste like never-before
Bacardi Brown-Forman Brands is partnering exclusively with The Blue Bar at The Berkeley to create 'Out Of The Blue' – an explorative journey of taste by stimulating the senses through a combination of the finest ingredients and bespoke, state-of-the-art technology.
Launched on 15th November 2017, 'Out Of The Blue' is an immersive experience within a secret space in The Berkeley hotel. Guests will enter a 360-degree projection environment where specially-designed film and molecular scents combine with world-class cocktails, to craft a bar experience that enhances the perception of flavour through sight, sound and scent.
The concept stems from the theory that the context of a drink affects flavour. The Blue Bar has taken this idea further by curating a controlled environment that allows guests to explore flavour within a space where their senses are stimulated simultaneously.
Taking inspiration from the Blue Bar's True Colours menu, a set menu of four taster-sized cocktails has been created using select premium spirits from Bacardi Brown-Forman Brands portfolio (BOMBAY SAPPHIRE gin, GREY GOOSE vodka, BACARDÍ OCHO rum and ABERFELDY single malt scotch whisky). The cocktail sequence will create a coherent flavour experience, tantalising the taste buds through a journey where light acidity and sweetness is balanced by potency and depth.
Daniel Baernreuther, Director of Food & Beverage and creative lead for Out Of The Blue at The Berkeley, says: "Every good barman knows that a cocktail is more than the sum of its parts. By stripping away the traditional cues, the 'Out Of The Blue' experience will to bring a focus on ingredients, allowing connoisseurs the chance to explore taste through a blank canvas and experience cocktails like never before."
Bacardi Brown-Forman Brands has signed a two-year exclusive partnership with The Berkeley to launch the 'Out Of The Blue' experience.
On the partnership, Amanda Almond, Managing Director of Bacardi Brown-Forman Brands in the UK, comments: "As one of London's leading luxury hotels and bars, we are thrilled to have formed this partnership with The Berkeley. It is important for us to support bar teams who have such innovative vision and to help lead the way in creating truly unique drinking experiences. We hope to work even more closely with The Berkeley in the future."
'Out Of The Blue' is available from Wednesday 15th November with hourly slots between 5.30pm – 11pm, priced at £200 (inclusive of VAT) for up to four guests to experience privately. To make a reservation please email our team directly on [email protected] or via the website http://www.the-berkeley.co.uk/knightsbridge-bars/out-of-the-blue/