The tequila revolution has a new leader; introducing the champagne of tequilas so smooth you sip it from a flute.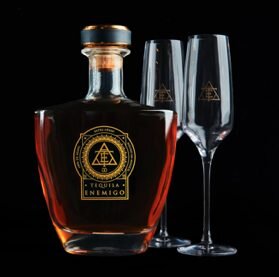 "This is exactly what aged tequila should be like."
Judge Anthony Moss, Master of Wine, The Global Luxury Spirits Masters.
Imagine a tequila so smooth, so pure and complex you sip it from a long-stemmed flute. Aged in custom new American Oak barrels and produced in one of the most environmentally friendly distilleries in the world, ultra-premium Tequila Enemigo is leading the tequila revolution, starting with the UK this winter. Blending traditional methods with cutting-edge technology, this pioneering tequila is already winning international awards.
Designed to be sipped, not shot, Tequila Enemigo is enjoyed by drinkers in an innovative and versatile way. The ultimate celebratory spirit to toast with this Christmas and New Year, it is served in long-stemmed champagne flutes, either chilled, with a squeeze of lime or at room temperature. The narrow bowl of the flute amplifies the aromas, and funnels the liquid to the tip of the tongue to ensure the elegant and distinctive flavour is savoured.
After only two days of previewing their first bottles, Tequila Enemigo won the Masters Medal at The Global Luxury Spirits Masters, one of the highest accolades in the drinks world for its unique smoothness. This superior spirits brand will launch two different products in time for Christmas; Enemigo 89 Añejo Cristalino and Enemigo 00 Extra Añejo.
Co-Founder and Director Max Davies-Gilbert, says:
From the absolute beginning, the focus of our tequila has been to deliver the purest experience by merging tradition with modernity, from production all the way through to consumption. Serving tequila in long stem glasses is the final coup d'état for our work and we couldn't be more excited to be bringing this approach to London, along with a product that we believe truly deserves such elegance.
Enemigo's tequila is produced in the cleanest and most environmentally-conscious method. Every plant is 100% blue agave and is individually checked for sugar concentration before heating; a process that uses only left-over agave rather than fossil fuels. From the spring water that passes through the volcano to create a unique blend of naturally occurring minerals, to the jimadors (agave farmers) who incorporate modern technology with centuries old family farming traditions, Tequila Enemigo challenges convention, whilst respecting tradition from root to bottle.
Award-winning Enemigo 00 Extra Añejo and Enemigo 89 Añejo Cristalino are now available in select bars and restaurants across London and Europe. Head to some of London's finest including Street XO, 5 Hertford Street, Mr. Fogg's, Isabel and Bart's to experience the new age of tequila.