THE BALMORAL'S MICHELIN-STARRED RESTAURANT CELEBRATES 20 YEARS OF CULINARY EXCELLENCE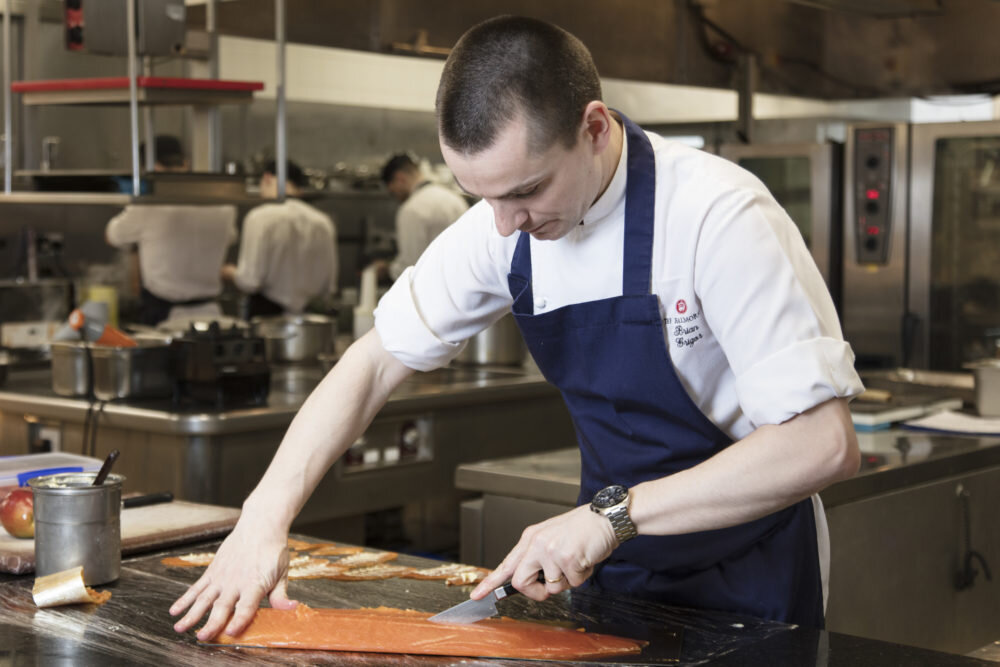 Number One, The Balmoral's Michelin-starred restaurant, commemorates its 20th year with an anniversary menu.
The Balmoral, a Rocco Forte hotel in Edinburgh, is celebrating two decades at the top of Scotland's culinary scene as its Michelin-starred restaurant, Number One, turns twenty. Known for placing Scotland at the heart of its innovative menu, contemporary dishes showcase everything from The Balmoral's Smoked Salmon and Borders grouse to world-famous West Coast scallops and even Scottish tea.
The first property to join Sir Rocco's distinguished portfolio when it was established in 1997, as Rocco Forte Hotels too marks its 20th year, it is only right that attention is turned to The Balmoral and its fine dining restaurant Number One. Monday 4th December 2017 will signify 20 years since Executive Chef, Jeff Bland, and Restaurant Director, Gary Quinn, opened its doors. Named after the hotel's prestigious address, No. 1 Princes Street, Number One has established itself as one of Scotland's key foodie destinations.
Under Jeff and Gary's leadership, and thanks to the work of three special Head Chefs over the restaurant's lifetime, Number One has become an award-winning restaurant, enjoying Michelin star status since 2003 and gaining 4 AA Rosettes in 2016. To celebrate its continued success, Executive Chef, Jeff Bland, is bringing together current Head Chef, Brian Grigor, and his predecessors – Craig Sandle and Billy Boyter – for one night only to create a commemorative dinner on Monday 4th December. Craig Sandle is currently sector chef at Marks and Spencer's whilst Billy Boyter now holds his own Michelin star at The Cellar in Anstruther, Fife. Each chef will be serving a dish that reflects their time at The Balmoral, with Brian putting his skill with game in the spotlight by cooking Roe Deer with pumpkin and chorizo.
To extend the celebrations, a special 20th anniversary menu has also been created. The menu will include The Balmoral's Smoked Salmon, a dish that current Head Chef, Brian Grigor, spent years perfecting. Uniting two of Scotland's most iconic products – whisky and smoked salmon – Brian has put his own twist on this traditional Scottish dish by smoking the Shetland sourced salmon over whisky barrel chips as part of a secret smoking process conducted in Scotland. The salmon will be followed by Keltic Langoustine, Maccheroncini pasta, shellfish bisque and almonds, a dish that Chef Bland and Restaurant Director Gary Quinn enjoyed together in a Parisian restaurant in 2003. They loved the simplicity of the dish and their patrons did too with the dish quickly became a favourite on Number One's menu. Sir Rocco's favourite dish from the early 2000s comes next: Veal Osso Buco and Risotto Milanese, a signature dish for the restaurant shortly after its opening. The celebratory meal will come to an end with Banana Soufflé and bourbon vanilla ice-cream, Chef Bland's signature dessert. This soufflé has been served at Number One for 20 years and is the recipe that each Head Chef remembers being taught by Chef Bland during their tenure at the restaurant.
The 20th Anniversary 4 course menu will be priced at £85 per person and will be available from 1st – 7th December (excluding 4th December when the four chefs will be reunited to serve a special anniversary dinner).
To book visit https://www.roccofortehotels.com/hotels-and-resorts/the-balmoral-hotel/restaurants-and-bars/number-one or call +44 (0)131 557 6727