Try something new this Autumn with Soul Food's Pumpkin Seeds – The power of pumpkin seeds, not just for Halloween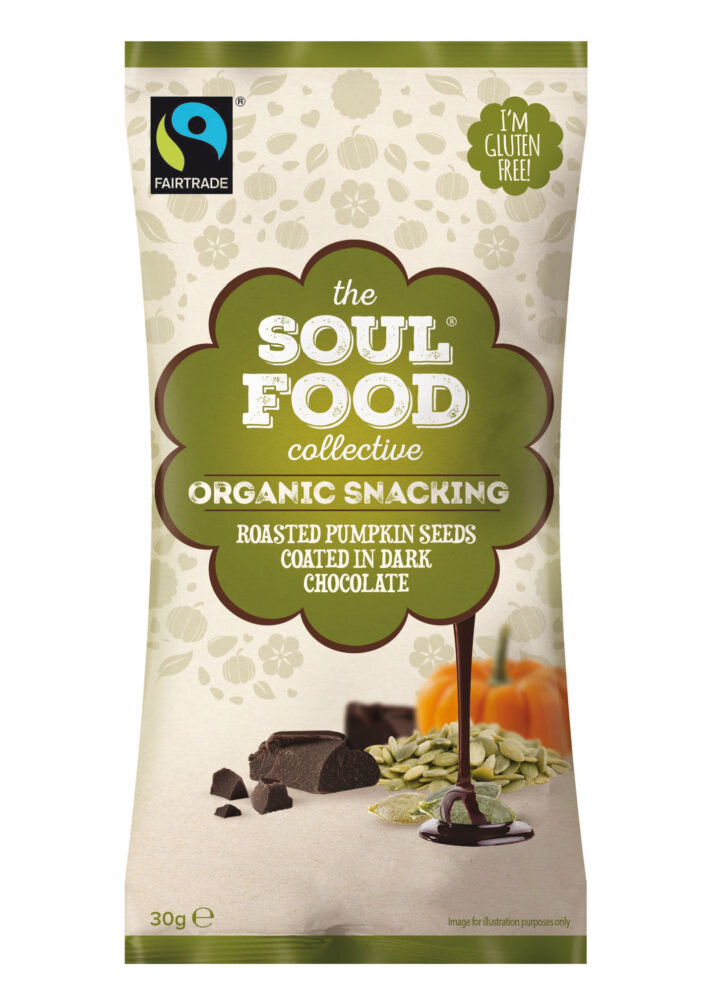 With summer firmly reduced to a hazy memory, Autumn in full swing, and temperatures dropping, our eating habits have changed. We're craving warming, comforting foods and with Halloween just around the corner, many will be buying in their pumpkins for some spooky celebrations, but the part of the pumpkin most often discarded is actually (we think) the most delicious part.
Enter Soul Food Collective's delicious snacking range, which happily features Fair-Trade and organic pumpkin seeds generously covered in Fair-Trade dark chocolate. Pumpkin seeds are nutritional powerhouses containing a huge range of nutrients, from protein and zinc to manganese and copper, perfect for giving you an added boost this Autumn.
So instead of stocking up with scarily sugar-laden treats, why not make sure you provide a treat for those door-knockers in the form of Soul Food Collective's Pumpkin Seeds. Better still you won't mind being left with a few extra packets!
The Soul Food Collective Organic Snacking range is made from premium quality, freeze dried fruit and seeds coated in Fair-trade Belgian chocolate.  The full range comprises six flavours:
–       Strawberries coated in Dark & Berry Chocolate – 50g bags – £2.29
–       Raspberries coated in Dark Chocolate – 50g bags – £2.29
–       Amarena Cherries coated in Dark Chocolate – 50g bags – £2.29
–       Mixed Berries coated in Dark, Milk and White chocolate – 50g bags – £2.29
–       Soya Beans coated in Dark Chocolate – 30g bags – £1.25
–       Pumpkin Seeds coated in Dark Chocolate – 30g bags – £1.25
The Soul Food Collective is available in independent health food shops, The Health Store, CLF and selected products are currently available through BoroughBox: https://www.boroughbox.com