A hands-on approach to infection prevention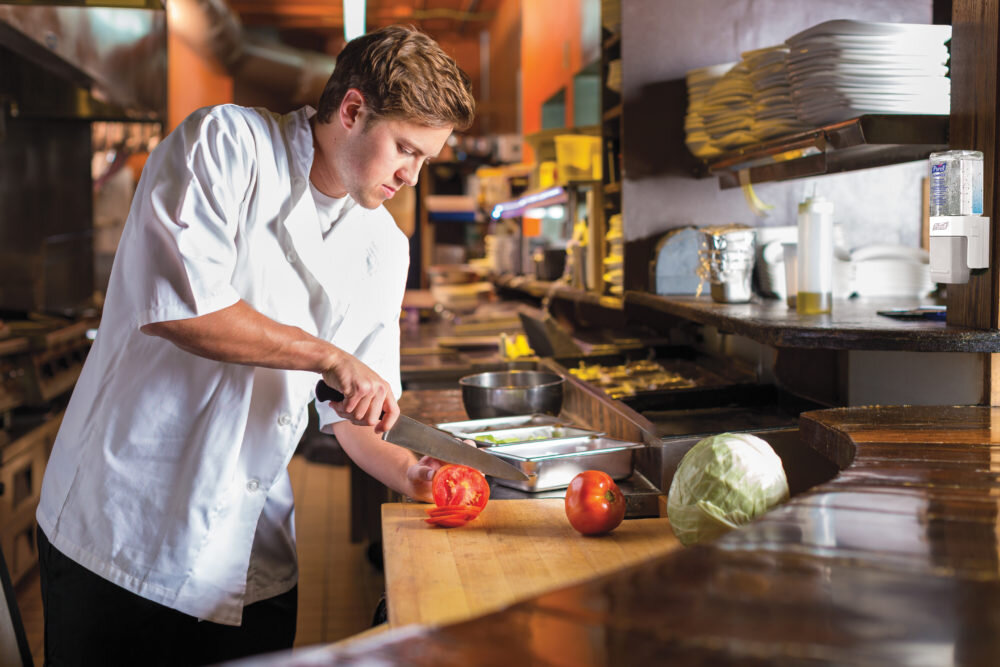 Outbreaks of infection of any kind can not only impact the health of customers and employees, but can have long-lasting implications for the reputation of any hotel, restaurant or hospitality establishment. Mike Sullivan, managing director of GOJO Industries-Europe Ltd, discusses how hand hygiene is essential in helping to prevent the spread of infections in all food handling settings.
The reputation of a hotel or restaurant takes years to build, however, can be irreparably damaged in a matter of days by a single negative headline. As we have seen in recent years, outbreaks such as norovirus can cause temporary branch closures and result in many customers and staff falling ill, subsequently prompting investigations by Public Health England.
Outbreaks of such nature within the hospitality industry are unfortunately an all-too-common problem. From entire cruise ships to single mobile restaurants, no establishment is immune from the risks of infection.
Norovirus – also known as the winter vomiting bug (occurs all year round, albeit with a winter peak) – is just one of the culprits. Other nasty and highly contagious infections – such as E. coli, which can be transmitted through contact with contaminated foods and cross-contamination between environments – also pose a real risk to the health of employees and customers.
A clear risk
Over 80% of illnesses can be transmitted by the hands[1]. Storing and preparing food in an hygienic manner is vital to avoiding infection outbreaks, and this includes ensuring that all food handlers practise excellent hand hygiene.
Effective hand hygiene is the first line of defence against the spread of infection. Despite the risks, research shows that one in four people do not wash their hands after using the washroom[2], and 46% of people who do wash, don't wash long enough to be effective[3].
It is paramount that hand hygiene best practice is encouraged in any hotel, restaurant or hospitality establishment. Kitchen and bar staff should be made aware of the risk of infection, and be made aware of hand hygiene best practice.
20 seconds to comply
The process of washing hands should take at least 20 seconds. Wet hands with water, apply enough soap to cover all surfaces, rub palm to palm and carefully scrub fingers, back and front of hands and each thumb. Rinse with water and gently dry with a clean paper towel.
Hand sanitising is ideal when water and soap are not available, or as an additional layer of protection. Using an alcohol-based hand sanitiser, whether foam, gel or wipes, significantly reduces the spread of germs.
Sanitising hands should take at least 15 seconds to be effective – apply a palmful of hand sanitiser, covering all surfaces, rub the sanitiser into palms, fingers, back and front of hands and thumbs, continuing to rub hands together until they are dry.
Washing or sanitising hands is most crucial after using the washroom, before preparing or eating food, and after sneezing or coughing. Hands should be washed or sanitised after touching anything that may carry germs, particularly any raw meats, and when switching between handling meats and other food substances.
Customer awareness
The same goes for customers – education campaigns are important, with notices and posters at key germ hotspots such as the washroom a good start when it comes to increasing hand hygiene compliance.
Eye-catching signage, posters and other visual displays can be very effective, and good hand hygiene companies can offer sound advice on the most effective approaches, and provide materials, based on their knowledge of the sector.
Giving employees and customers access to products and systems that they like using can help towards achieving a greater success rate of reducing infections and cross contamination – this plays just as important a role as product efficacy. Formulations that smell and feel pleasant and leave hands feeling fresh and moisturised are likely to be used more often.
Good hand hygiene is good business
Good hand hygiene systems are essential to the smooth running of an entire business. In food preparation areas, only formulations that have been tested and passed in accordance with international food taint testing standard EN 4120:2007, should be considered. This provides assurance that they are safe for use in food handling.
By ensuring that effective, easy-to-use hand hygiene products are readily available at all the 'critical control points' where food safety problems could arise, employers can also guard against risks. There is an added benefit of supporting employees by demonstrating the employer's commitment to safeguarding their personal health and well-being.
Having well-designed soap and sanitiser dispensers displayed where they are most needed in a hotel or restaurant can also boost the overall impression of hygiene standards in an establishment, helping fuel its reputation.
Education, awareness and support
Combining technologically advanced formulations and state-of-the-art dispensing systems with education, awareness and support is the best approach to help organisations champion hand hygiene best practice. Ultimately, good hand hygiene in both staff and customers will reduce the risk and spread of infection in hotels, restaurants and other hospitality establishments.