BORDER BISCUITS LAUNCHES BESPOKE RANGE AT THE CAFFÉ CULTURE SHOW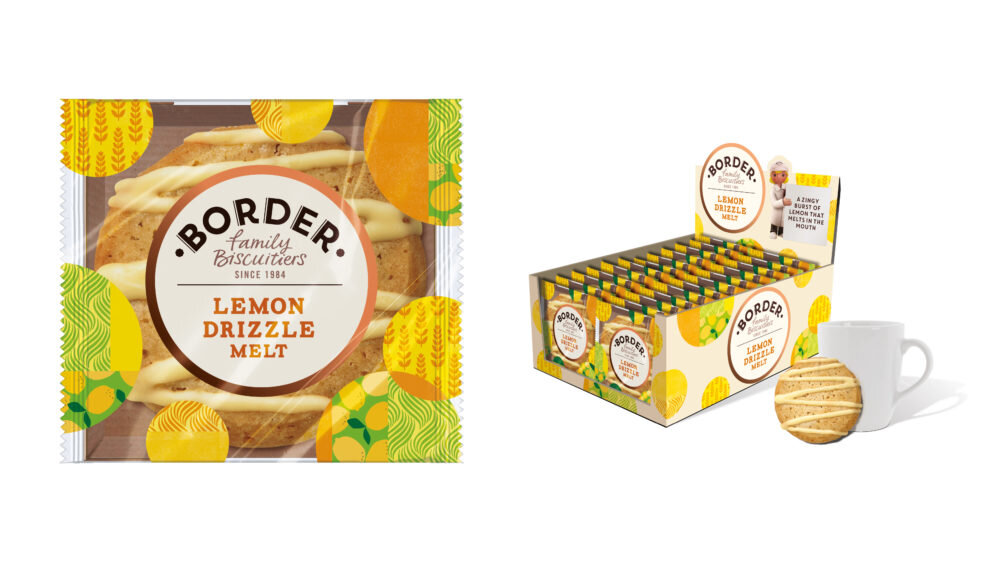 Premium biscuit manufacturer Border Biscuits, has launched a bespoke range of quality biscuits to appeal directly to the out of home and foodservice sectors.
Following extensive research, a Café Bake range has been developed specifically for cafés and coffee shops and will help add value to instore and 'grab and go' purchases.
Research commissioned by the brand, revealed that 75% of consumers agree that seeing Border Biscuits when visiting a tea or coffee shop would make them happy, that's almost four times more satisfied customers versus unbranded1
Building on Border Biscuits' excellent reputation and over thirty years of biscuit making expertise, the new Café Bake range includes three delicious varieties from the strong portfolio including Yogurt, Cranberry and Pumpkin Seed Oat Crumbles, Pecan and Maple Syrup Oat Crumbles and mouth-watering Lemon Drizzle Melts, perfect for a moment of biscuit bliss during a busy day.
Available in stylish counter display units of 24, the larger single biscuits* are individually wrapped in attractive window packaging, to create stand out and appeal to consumers at the moment of purchase. The new range is set to enhance the café experience for the customer and the unique packaging makes them an ideal treat for 'on-the-go' purchases.
Brand and innovation director Lesley Ann Gray said: "The new Café Bake range is based on extensive research and our understanding of the marketplace.  It will offer customers a unique and outstanding biscuit experience and draws on our expertise of baking the very best biscuits using quality ingredients.  The new range will help boost sales and add value to cafés and coffee shops and showcases flavours that we know consumers love."
Also being showcased at the Caffé Culture Show, are new single portion luxury Mini Packs to appeal to the foodservice arena, in particular the hotel and conferencing sector.
Over 26 million Mini Packs are sold every year in the current range which includes two biscuits, individually wrapped from the popular Classic Recipes range including Divinely Choc Chip Cookies, Butterscotch Crunch, Choc Chip Shortbread, Oat Crumbles and Viennese Whirls which are available in mixed cases of 48 or 100.
Building on this success the new single Mini Packs are set to meet a particular demand and requirement for hotels and conferencing. Available in mixed boxes of 150, the range includes timeless classics including Viennese Whirls, lightly baked swirls made with the finest vanilla, Divinely Choc Chip Cookies, deliciously moreish Belgian chocolate biscuits and Crunchy Oat Crumbles, delicious light biscuits bursting with oats.
Research shows that complimentary biscuits enhance customer satisfaction rates and help to define a quality experience.2
Gray continues: "The biscuit experience is so important for both hotel stays and conferencing experiences and helps to ensure people feel valued. Consumers are particularly pleased to receive good quality, well known biscuits like Border Biscuits with a heritage they can trust. The new single Mini Packs are suitable for an array of different occasions and the popular flavours will help boost customer satisfaction."
The new range is supported by an extensive trade advertising campaign, featuring the iconic and lovable Biscuitiers in 'out of home' situations, with the strapline – Border Biscuits Boost Business. In addition, a targeted social media and PR campaign will help raise awareness of the new range and encourage customers to sign up online at trialborder.co.uk for a free trial of the new range, to see how well it performs in their outlets.
Visit us at the Caffé Culture Show stand G32 for a free sample and an opportunity to discuss your individual requirements with our knowledgeable and friendly team.