Mess-elin Starred Meals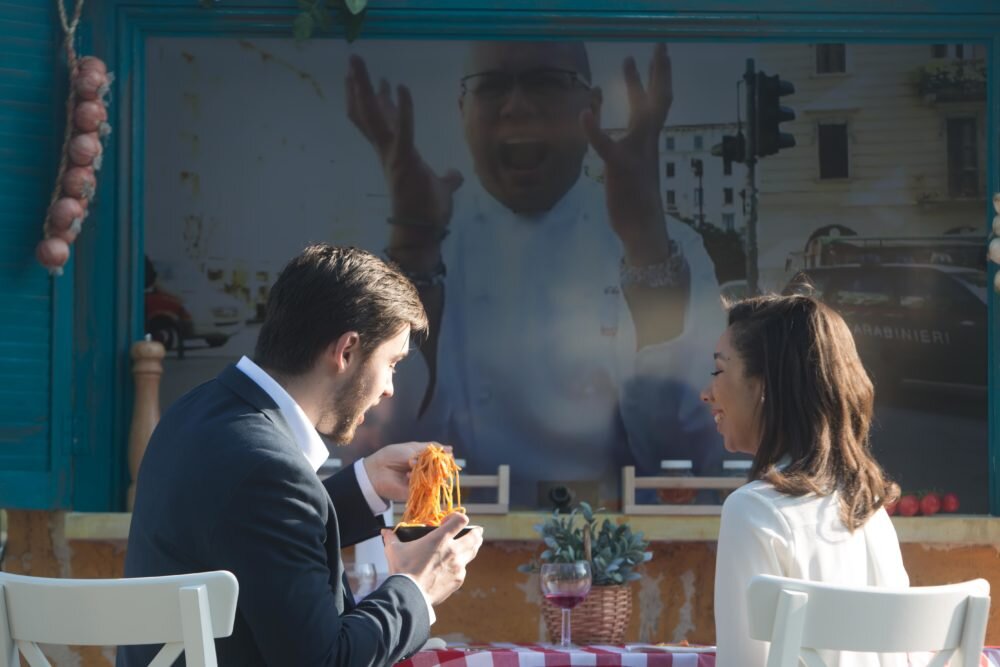 New research from Deliveroo and rewards app Wuntu from Three, has uncovered just how gastronomically repressed Brits are when it comes to dating. More than 25% of those surveyed revealed they refused to order or eat their favourite food when out with a potential partner and 16% avoid dinner dates completely because they are simply too nervous to eat in public.
Italians topped the list of nationalities we would most like to date and Spaghetti is named the most 'out of bounds' dish when trying to impress the opposite sex – resulting in up to 33.364,000* single Brits experiencing date-food disaster.
To remedy the problem, Deliveroo has partnered with rewards app Wuntu from mobile company Three, to launch virtual love lessons, aiming to educate Brits on the art of Italian dining. Milan based food experts will virtually date willing Brits, sharing both wisdom and skills, in a home from home, sitting room environment by the British Riviera.
The Southbank based experience will be available from April 19-20th offering the public a fun dinner date with an Italian.
Top 5 'out of bounds' dishes
1
Spaghetti
2
Ribs
3
Spaghetti Carbonara
4
Lobster
5
Langoustines
Whilst two out of five 'out of bounds' dishes feature date dooming spaghetti, the foods that British daters declared 'safe' to eat include simple salads, tofu and sausage and mash, leaving passion at the door and letting apathy take hold.
Joe Groves, of Deliveroo, said: "As one of the nation's favourite cuisines, it's crazy to see that we avoid Italian when dating. With many dates now happening at home, we felt it was only right to inspire the UK to embrace the food of love in time for a budding summer romance."
Jolene Sicklemore, head of marketing communications at Three mobile, said: "We wanted to give our Wuntu reward app users a fun opportunity to eat their favourite Italian meal courtesy of Deliveroo. This time they can hopefully go on a date, without the fear of embarrassing themselves by dropping spaghetti sauce down their crisp white shirt."
The two-day virtual dinner experience will utilise Three's Feel at Home roaming service where you can use your phone abroad in 42 destinations worldwide, including Italy, at no extra cost.
Rossopomodoro Italy's leading restaurant group born in Naples and offering its authentic Neapolitan food and pizza both in Milan and London, will be exclusive partner of deliveroo throughout the virtual dining event, when diners will be having a long-distance dining experience in iconic location both in London and Milan.
Gianni Scotto di Carlo – Rossopomodoro UK Head Pizzaiuolo said: "We have designed a menu together with our colleagues in Milan to offer a sample of our different flavours and  Italian Napoli based heritage. During the week of the virtual dining event we will be delighted to offer our special cuisine to all delivery customers from all our 8 restaurants in London"
With limited space available for a virtual love lesson, the public can sign up at http://deliveroothree.simplybook.it/v2/ and learn from the experts in the surroundings of the ultimate dining from home experience.