Boutique Spa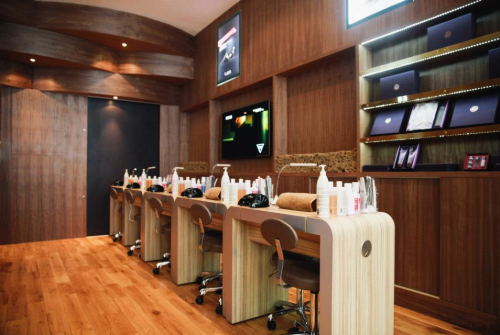 Boutique Spa is a high street Spa offering premium treatments and the highest quality products within a unique and luxurious space. Boutique Spa has fast become the go-to space for relaxation and indulgence for on-the-go customers. Realising the need for a service that would meet modern life demands of today's time-short, over-working Londoners, Boutique Spa opened its first branch three years ago in Queensway, which success led to the opening of a second one in Fitzrovia, less than one month ago.
Having followed unsurpassed ESPA's and Aromatherapy Associates Therapist Training, Boutique Spa's therapists have a unique understanding of skincare and are on hand to consult on what works for skin of every age and type, while helping clients find the right combinations to express their natural beauty. ESPA and Aromatherapy Associates products are available for those who visit for in-spa treatments and off-the-shelf.
Boutique Spa's philosophy to use only the best products transcends through to its nail care offering, boasting the use of Essie and OPI, as well as Seche Vite, award-winning fast dry top coat. Boutique Spa's partnership with established luxury brands such as ESPA and Aromatherapy Associates is a real testimony of the spas' calibre; its beautifully sleek surroundings and sumptuous treatments pay tribute to the belief in the remarkable power of nature to calm, refresh and renew.
With longer opening hours than any other spa and the newest multi-tasker treatments introduction in Fitzrovia, Boutique Spa customers can book appointments in advance, online or simply walk in at times that don't have to collide with normal working hours, having now the possibility to get multiple treatments carried out simultaneously in a thirty or sixty minute sitting. Additionally, Boutique Spa Fitzrovia features a Blow Dry Bar, using the best products on the market to give a polish look for that big meeting, night out or special occasion.
The expert therapists and supreme products dazzle the senses and de-stress body and mind, putting Boutique Spa as an ideal destination for wellbeing and beauty treatments.
Treatments: Massage, Facials, Laser Hair Removal, Manicure, Pedicure, Blow Dry Bar, Waxing, Threading, Spray Tan, Microdermabrasion, Eyelash Treatments Brands: ESPA, Aromatherapy Associates, Soprano Laser Hair Removal, Essie, Opi, Seche, Dadi'Oil, St. Tropez Spray Tan
Boutique Spa locations: 123 Queensway, London W2 4SJ and 19 Newman Street, London, W1T 1PF.
Bookings can be made via phone (Queensway – 020 7221 8017 / Fitzrovia – 020 38748961) or online via
website – www.boutiquespa.co.uk
Opening hours: Queensway: Mon-Sat 10am to 9.30pm, Sun 10am to 8pm Fitzrovia: Mon-Fri 7am to 9pm,
Sat 9am to 9pm, Sun 10am to 8pm