Wales latest Micro-Brewery starts with a bang.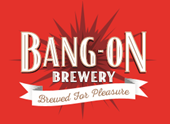 The Bang-On Brewery in Bridgend, South Wales opened its door to the world in December 2016 and is already creating a buzz in the area and a lot further afield.
Neil Randle, 42, a businessman from near Porthcawl loves quality produced real ales and "true" craft beer but got frustrated with the poor choice of industrial processed sameness from the international behemothic beer producers that are wrongly using the "Craft" phrase for the purpose of marketing their products.
It seemed logical that if he really wanted an honest and natural product then it would be a Bang-On idea to set up his own brewery and become a Beermeister.
After a year of researching the industry, undertaking professional courses and travelling to breweries throughout the UK and Europe to continue the education process, Neil found the ideal premises in Bridgend, South Wales and then set about building a brewery from scratch.
Asked if it was daunting, Neil says "If something isn't daunting then it's not really worth doing. We are all mere custodians of this world for a given period of time so we owe it to ourselves to challenge ourselves and make the most of it." While going through all of the regulatory processes and procedures to get the licences to produce and sell alcohol was time consuming and sometimes frustrating; Neil thought that the most difficult challenge would be to find a head brewer with a difference.
"My vision was to find a classically trained fine dining chef that wanted to come to the dark side; The brewing procedure is actually very process driven but having a very talented chef with a perfect palate and the knowledge and creativity to mix blends and ingredients was in my opinion going to be a challenge. I am delighted to admit that on this point, I was very wrong."
Through word of mouth and mutual friends; Classically trained chef Craig Jackson, 41, from near Cowbridge had heard about a new brewery opening in Bridgend and was introduced to Neil.
Craig says "After the most informal of interviews, a meeting of minds and vision, the rest as they say is history. I bought into the Bang-On Brewery dream straight away and set about helping Neil to turn the dream into a reality by accepting the job of Chief Beer Chef."
In the first six months both Neil and Craig spent their time undertaking more courses while also honing their building, electrical, plumbing, decorating, financial planning, legal and general dogs body skills. Neil says, "We had a good team of trades people around us but there wasn't an infinite budget so we all just got stuck in. The biggest surprise though was the number of volunteers that helped – We had Policemen, Servicemen, Graphic Designers, business people and factory workers picking up paint brushes and helping out on their days off for the simple reason that they love beer and wanted us open quicker. To this day, I'm genuinely overwhelmed by the community spirit afforded us for the sake of getting a decent beer."
Once production started Neil and Craig quickly became very busy. Over 30 unique recipes have been created ranging from a core offering of Blonde, IPA, APA, Amber, Session, Lager-Ale, Stout and Ruby IPA through to niche limited edition batches. There are currently 8 beers in production and each beer is made from totally natural ingredients which makes them suitable for vegans. There are already number of local free house pubs and retail outlets placing orders to stock the variety of beers while there have also been some more unexpected enquiries. Neil continues "We have had enquiries about exporting to Australia, The United States, Switzerland, Austria and Russia so far. The most interesting proposition though is from a Michelin Star restaurant in the South of France that wants to work on a collaborative beer to complement their menu and offer an alternative to wine. They are aware of Craigs background and want us to create something very unique."
Since opening; The brewery and the adjoining licenced bar and shop has been incredibly busy. Craig states "At one point on the lead up to Christmas, people were literally lining up into the car park to buy Christmas presents for loved ones and now the recipients of the gifts are returning each week to replenish their stocks. We take a great amount of pride in what we do; people can sense the enthusiasm and see the knowledge that we have and they love the fact that we take the time to share this with them."
The Brewery's slogan is 'Brewed for Pleasure' which encapsulates their philosophy that their work should be fun for all. The Bang-On Brewery takes this as far as offering tours with tasting sessions and brew day experiences for those that want to become more hands on while the bar area simply offers the customer the sanctity of a quality pint in a unique environment that has travelled no further than the room next door.
For further information, contact Neil Randle on 07870931953 / 01656760790 or via [email protected]