STOATS BRINGS #PORRIDGESMILES TO EDINBURGH FOR MARY'S MEALS' WORLD PORRIDGE DAY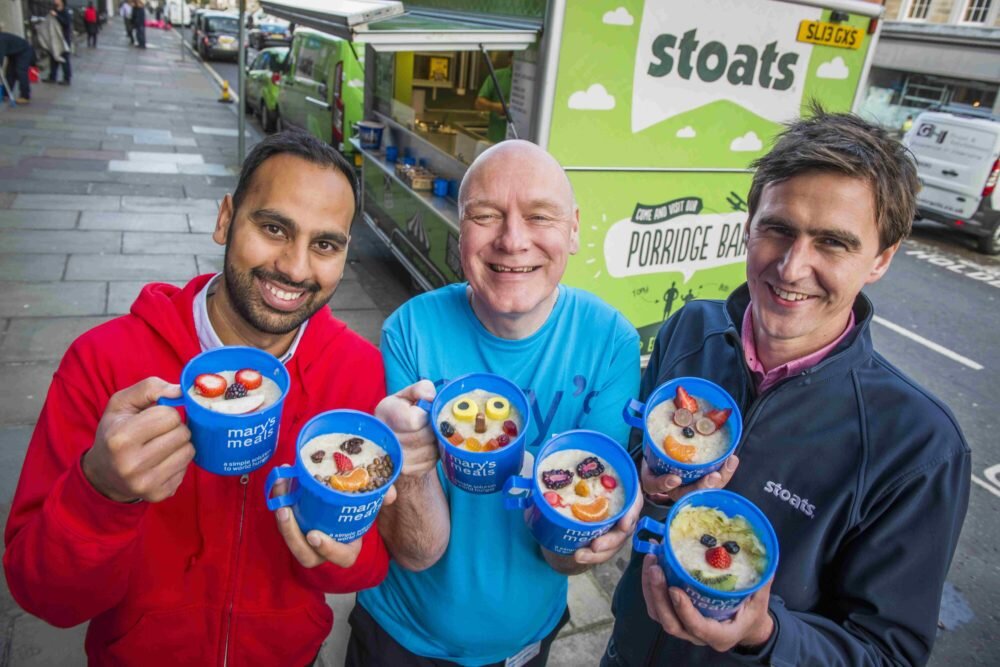 As the official partner of World Porridge Day 2016, Scottish oats company, Stoats served up bowls of porridge to the 250 staff at People's Postcode Lottery in Edinburgh.
A celebration of Scotland's traditional dish, World Porridge Day on 10 October, supports Mary's Meals, raising awareness of the charity's work and generating funds to feed needy children in schools in Malawi.
Stoats served up bowls of porridge from their Porridge Bar on Queen Street to encourage People's Postcode Lottery staff to get involved in their #PorridgeSmiles campaign.
The campaign, which is encouraging people throughout October to get creative with their porridge toppings by making a smiley face and posting a picture on their social channels with the hashtag #PorridgeSmiles, will raise funds for Mary's Meals.
Hundreds of staff created #PorridgeSmiles and showed their support by texting 'OATS16 £2' to 70070 to provide a hungry child with meals in school for a month.
Managing Director at Stoats, Tony Stone, said: "We are extremely proud to be the official partner for World Porridge Day 2016.  We wanted to bring our Porridge Bar to the centre of Edinburgh to help raise awareness and funds for a worthwhile cause. It is great to see all People's Postcode Lottery staff sharing their #PorridgeSmiles and we'd like to thank them for their support."
Alan Brown, Executive Director at Mary's Meals, said: "There's been smiles all round in George Street today and it's great to see so many people getting behind World Porridge Day. The daily mug of porridge Mary's Meals provides to hungry children in school makes such a difference to their lives, allowing them to reach their full potential.
"Thanks so much to People's Postcode Lottery for hosting the launch and a big thanks to Stoats, our official 2016 World Porridge Day partner."
Sanjay Singh, Senior Programmes Manager at People's Postcode Lottery, said: "Players have supported Mary's Meals with £350,000 in funding to date and we are delighted to help Mary's Meals launch their #PorridgeSmiles campaign this morning."
The Edinburgh based oats company is also donating 20% of all online porridge sales throughout October.
Mary's Meals sets up school feeding programmes in some of the world's poorest communities to help combat chronic hunger and encourage children to attend school and gain an education that could free them from poverty.
Share your #PorridgeSmiles with Stoats and text 'OATS16 £2' to 70070 to provide a hungry child with meals in school for a month.  Or why not have your #PorridgeSmiles photo featured in the World Porridge Day Hall of Fame by emailing [email protected]?