The Soho Sky Terrace Takeover Begins with Bombay Sapphire at the Courthouse Hotel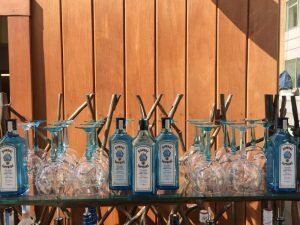 With  the  warmer  months  lulling  over  London,  The  Courthouse  Hotel  Soho  is  kick-­‐starting the  takeover  of  their  premium  rooftop  space,  the Soho  Sky  Terrace,  by  adding  a  sumptuous  jewel  to  their  crown  and  partnering  with  the  legendary  gin  brand,  Bombay  Sapphire.  
The  stunning  terrace  stands  as  one  of  the  Capital's  primary  spots  to  enjoy  premium customer  service,  quality  food  and  a  luxurious atmosphere  at  the  heart  of  the  city,  and  In the  hotel's  permanent  spirit  of  providing  an  exquisite  experience,  the  rooftop  space  will  be
partnering  with  Bombay  Sapphire  to  celebrate  the  summer  right  up  until  November  2016.
Standing  at  the  helm  of  Carnaby  Street,  the  hotel's  rooftop  will  be  adorned  with  plush sapphire  cushions  and  bespoke  blankets  should  the evening  take  a  sudden  chill.  A  brand new  artisan  cocktail  menu  will  include  exclusive  creations  to  accentuate  the  legendary beverage  and  the  luxurious  setting,  including  a  host  of  gin  and  tonic  'twists'  such as  Raspberry  and  Basil,  Apple  and  Pomegranate  and  the  zesty  classic, Star  of  Bombay  with Vermouth  and  Lemon  Peel  to  garnish.
Designed  to  be  enjoyed  with  the  Soho  Sky  Terrace's  fabulous  menu,  guests  can  also  indulge in  delights  including  artisan  salads  and  a  range of  freshly  prepared  light  bites,  complimenting  the  Central  London  space  to  perfection.
The  Soho  Sky  Terrace  Takeover  will  continue  to  partner  with  hand  picked  premium  drinks brands  right  up  until  Summer  2017.  Please  see website  for  more  details. The Courthouse Hotel, 19 – 21 Great Marlborough Street, W1F 7LH www.courthouse-hotel.com
For more information about the Courthouse Hotel, please contact Kate at Child PR on [email protected] or by calling 020 7294 7748