Checkit and Cambridge City Council partner to transform UK food safety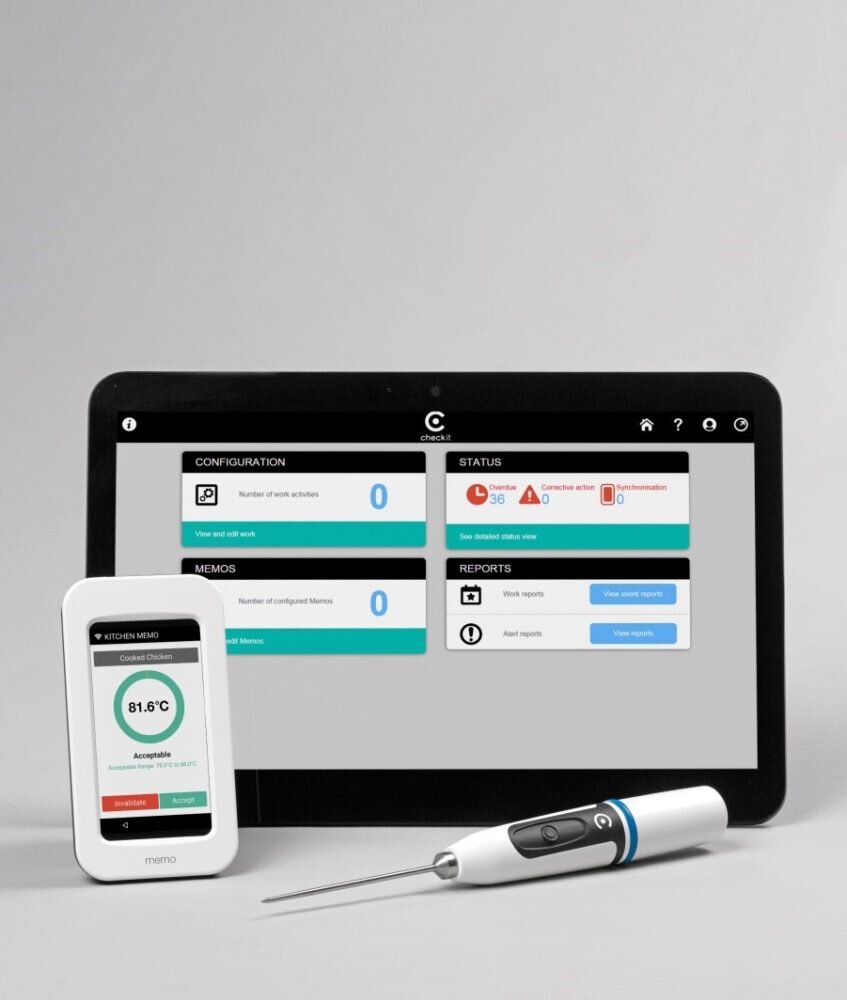 Cambridge innovators develop digital checklist-based Food Safety Management System.
Food safety across the UK will be radically improved through an innovative new development created by a Cambridge partnership and announced today. Checkit, the leader in automated monitoring and work management solutions, has partnered with Cambridge City Council in a flagship initiative to develop a next generation cloud-based food safety management system, which will revolutionise food safety compliance.
The system, which builds upon the Food Standards Agency's Safer Food Better Business, enables all food businesses, whether a single restaurant or a UK-wide chain, hospital or school, to replace their paper-based system with interactive digital checklists and automated cloud-based monitoring, to give improved compliance, control and visibility.
Through the Primary Authority Partnership, Cambridge City Council has approved the use of the Checkit solution as a food safety management system, clearing the way for widespread adoption of the new technology. Through the partnership, Cambridge City Council is able to provide confidence and advice to Checkit customers who sign up as partner businesses, and confirmation to other food authorities across the UK that Checkit is able to fulfil the appropriate legal requirements.
"Checkit can provide a complete digital record of all of the tasks carried out by the business. It gives an accurate and verifiable record of compliance which benefits all good food businesses, and so offers the best opportunity for the business to succeed and achieve a high food rating," said Frank Harrison, Manager of the Commercial Team of Cambridge City Council. "In a workplace where paper-based records are easily damaged, lost, or simply not available, a digital system which is always ready for use, makes record-keeping easy, accurate and fast, thereby saving the business time and money, while offering minimal disruption to the operations."
The advanced Checkit system has been created to fully digitise the management and recording of tasks. It comprises four elements – the Memo, a handheld unit that displays scheduled tasks to staff, guiding them to ensure they comply with business processes and procedures, and then automatically recording and date-stamping their actions; handheld probes that allow the checking of temperatures and the wireless Internet–of-Things sensors that can automatically monitor temperature, humidity or door status, 24/7.
All of the data feeds to the Checkit Control Centre. This is cloud-based management and monitoring software that provides businesses with real-time control and visibility over all of their operations. It enables managers to see at a glance which food safety tasks have been completed, and which have not. Checkit provides a verified audit trail that gives a full account of the business's food safety activities, or an accurate, at-a-glance overview of the state of compliance. This summary is ideal for area managers, or even, if requested, for enforcement officers.
"Cambridge has a global reputation for innovative ideas, and this partnership is a perfect example of public and private sectors working together to transform how task-based businesses, such as those in
the food industry, operate," said Martin Nash, Product Line Manager, Checkit. "Digital checklists are key to automating control over previously manual processes. We believe food safety is just the first application for our technology and are already seeing multiple applications in areas as diverse as healthcare and facilities management, where we can assist organisations in increasing efficiency and real-time control."
"This Primary Authority Partnership shows that Cambridge City Council is committed to working with local business, and recognises the national benefit that good partnership working can achieve. This partnership, which aims to develop and improve food safety, both in the local area and further afield, is an excellent example of innovative work helping to improve our commercial sector and food safety as a whole," said Councillor Peter Roberts, Executive Councillor for Environment and Waste, Cambridge City Council. "As a council we are committed to supporting Cambridge innovation, with its impact across the UK. Our work with Checkit demonstrates the benefits of good partnership working. It ensures that the highest standards of food safety and hygiene can be maintained even in an increasingly technical world; this cloud-based food safety management system is the natural progression of the paper version most widely used, and will help advance food safety to a higher level."