The End of the Tax Year is Near- Buy Art London, UK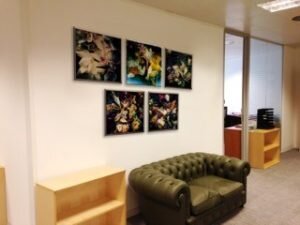 Looking for a useful way to invest the last of your budget this tax year? What about high quality, affordable art? Art In Offices provides contemporary art at affordable prices, to fill empty office walls and is here to help you invest your budget in your company's future.
Here are just a few of the benefits of investing in art: 1. Art increases in value every year, even work by emerging artists. 2. The art becomes a fixed company asset. 3. You can depreciate the art over a few years, for tax purposes. 4. Art creates a welcoming and productive environment in the office. 5. Office space is expensive to rent, and art on the walls encourages all spaces to be used.
"I have clients that have slowly built a collection of valuable artworks over a number of years. They started with small budgets, and with our advice, their collection of inexpensive artworks by relatively unknown artists, has become a very valuable collection of art, which is now worth a substantial amount." Katie Henry, Director of Art In Offices.
Our services
: – Free on-site consultations, – Free mock-up photos of potential works in situ, – Professional art technicians to install the work, – Insurance included for the art on your walls, – Comprehensive aftercare.
No matter what your budget is this time of year, we aim to provide contemporary art at affordable prices, to companies with any size budget. You can buy artwork starting from £500, or you can rent artwork long term from only £30 per month. Alternatively, you can start a monthly subscription where our expert staff will swap your artworks every few months to keep the office fresh and interesting. Whatever option you choose you'll know what you're spending every month.
So if you are looking to spend and invest the last of your year-end budget on something that benefits the whole company, whilst also supports the arts, take a look at www.artinoffices.co.uk/artwork or contact us directly at [email protected]