Bingham announces a series of new Wine Dinners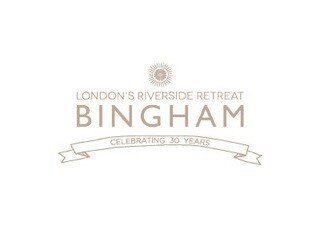 The Bingham, one of London's most elegant 'restaurant with rooms' destinations situated on the tranquil banks of the River Thames in Richmond, has announced a series of Wine Dinners for 2016.
The Bingham is well known for its exquisite food, with new head chef Andrew Cole creating a holistic menu full of unique and seasonal dishes; and now the Bingham is delighted to offer guests the experience of matching brand new dishes with expertly paired wines. The Bingham will first be hosting guest chef Stephen Edwards, Food Director of Etch Foods and winner of Masterchef: The Professionals 2013 on 24th and 25th January. A six-course menu will be on offer at £60 per person, including a poached Guinea Fowl breast and pulled leg with crispy onion, and chocolate tart with salted caramel popcorn and crème fraiche ice cream.
In the Spring, the Bingham will be hosting two new Wine Dinners – a Unique & Rare Wine Dinner on 11th March and a Spanish Wine Dinner on the 21st April. The Unique & Rare Wine Dinner will allow guests to explore and enjoy wines that are not easy, everyday wines to find. For example, hand-dived scallops and Dorset crab served with saffron turnip and a freen mango salad will be paired with a Fié Gris 2013 Domaine de l'Aujardière – a rare cousin of Sauvignon Blanc. The juniper-crusted saddle of Venison will be paired with a Clos Louie 2006 – made from pre-phylloxera vines planted in the 1850s. The Spanish Wine Dinner will see Spanish-influenced dishes paired with the best of Spain's grapes. Guests will start their Spanish adventure with classic Iberico ham with Manchego croquettes will be paired with Mas Sardana DO Cava Brut Nature – a cava with no added sugar to allow the natural taste of the Brut to shine. Both the Unique & Rare and Spanish Wine Dinners will be 6 courses, and priced at £95 per person.
On the 25th May, the Bingham will be hosting a Cloudy Bay Floral Wine Dinner, to celebrate the long celebrated association with Cloudy Bay and the Chelsea Flower Show. Cloudy Bay classics such as their Sauvignon Blanc and Pinot Noir will be enjoyed alongside Oysters with Oscietra Caviar and Creedy Carver Duck with Squash Blossons and a spiced cherry jus.
Come Autumn, the Bingham will also welcome guests to the delicious Laurent Perrier Champagne Dinner. On the 14th October, the Bingham will combine incredible cuvees with delectable canapés and dishes. Foie Gras with caramelised hazelnuts, tamarind and nashi pear, will be matched with the Laurent-Perrier Ultra Brut; and Heron's farmed Chicken with truffle barley, smoked leek with a dash of golden raisin and caper dressing, paired with with Laurent-Perrier Brut Vintage of 2004 are examples of the exquisite matches that the Bingham has to offer. Dinners will be priced at £95 per person.
Sample Menu with Guest Chef: Steven Edwards
Chef Director of etch and winner of Masterchef: The Professionals 2013
Available Weds 24 – Thurs 25 February
Broccoli – cheese
broccoli soup, Brighton blue crumble, raw stalk
Gurnard – crab
line caught gurnard, pearl barley risotto, south coast crab, apple
Beetroot – horseradish
garden beetroot salad, horseradish ice cream, watercress
Guinea fowl – onion
poached guinea fowl breast & pulled leg, crispy onion, roasting juices
Orange – almond
set blood orange cream, almond cake, burnt orange
Chocolate – caramel
chocolate tart, salted caramel popcorn, crème fraiche ice cream
The Unique and the Rare Wine Dinner
FRIDAY 11 MARCH | 7PM
Chef's choice – Canapés
Clos de la Procure 2006 Côtes de Provence Aged in barrels from Ch. Yquem
* **********
Scallops – Crab
Hand dived scallops, Dorset crab, saffron turnip, green mango salad
Fié Gris 2013 Domaine de l' Aujardière Rare cousin of Sauvignon Blanc from Grand Lieu, Loire
* **********
Sea bream – Lemon
Sea bream tartar, compressed cucumber, pickled radish, lemon purée
Heida 2010 Collec on Chandra Kurt From Switzerland's highest vineyard at 1,150m
* **********
Venison – Celeriac
Juniper crusted saddle of venison, celeriac purée, spiced chocolate sauce
Clos Louie 2006 en Magnum, Côtes de Cas llon Pre-phylloxera vines planted in the 1850s
* **********
Cheese – Quince
English & French cheese selec on, fruit bread, quince compote
Grenat Noble 2008 Le Clos des Cazaux, Vacqueyras Grenache Noir with la Pourriture Noble
* **********
Crème brulée – Shortbread
Vanilla crème brulée, summer fruits and vanilla short bread
Secret de la Vigneronne Burgundy
Spanish Wine Dinner – Sample Menu
Thursday 21 April |7pm 
Iberico ham

Spanish Manchego Croquettes
Mas Sardana DO Cava Brut Nature Frank Massard
* **********
Cod brandade
Octopus salad
Mussels
Treixadura "Ailala" Ribeiros Do Avia
Mariona Alicante Blanco
* **********
Grilled sardines
Mas Amor Rosado DO Catalonia
* **********
Suckling pig
Beef with green peppers
Chorizo
El Mago Organic Garnacha DO Terra Alta
Pago de los Capellanes Joven DOQ Ribera del Duero Humilitat DOQ Priorat
* **********
Cheese
Rioja Gran Reserva Vina Cerrada
* **********
Almond tart
Dried figs
Churros with chocolate sauce 
Pedro Ximenez Bella Luna Jerez
Cloudy Bay Wine Dinner
 Oyster – Oscietra Caviar
hibiscus, light goat's cheese mousse
Cloudy Bay Sauvignon Blanc
Seared Halibut – Viola Flowers
romanesco, mixed herb salad, bacon crumble
Cloudy Bay Te Koko
Cured Salmon – Gin and Lavender
crayfish tortellini, lobster bisque
Cloudy Bay Chardonnay
Creedy Carver Duck – Squash Blossoms
honey glazed shallots, orange purée, spiced cherry jus
Cloudy Bay Pinot Noir
English & French Cheese Selection
fruit bread, quince
Cloudy Bay Pinot Noir
Strawberry Parfait – Rose Jelly
elderflower sorbet
Cloudy Bay Pelorus
Laurent-Perrier Champagne Dinner
14th October 2016
Amuse Bouche
 Ballotine of Foie Gras
 Caramelized Hazelnuts, Tamarind, Nashi Pear
Laurent-Perrier Ultra Brut
Dorset Crab Risotto
 Pink Grapefruit, Kafir Lime, Lemon Grass Bisque
Laurent-Perrier Brut
Herons Farm Chicken
Truffle barley, Smoked Leek, Golden Raisin and Caper Dressing
Laurent-Perrier Brut Vintage 2004
Chaource Cheese
Fresh Honeycomb, Gem Lettuce
Laurent-Perrier Rose
Apple and Almond Tart
Vanilla Ice Cream
Laurent-Perrier Demi Sec