Pullman London St Pancras Launches its Art Room Series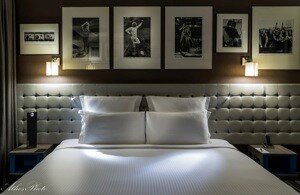 Pullman London St Pancras, located just minutes from King's Cross St Pancras, launches a series of "Art Rooms" to be unveiled throughout the year. The themed bedrooms, each housing works by different contemporary artists, includes exhibits by renowned French photographer Richard Bellia and London-based portrait sculptor James A Matthews.
Guests can be taken back to the golden age of Rock & Roll with French photographer Richard Bellia's black and white images adorning the walls of one of the hotel's Deluxe Rooms. The room showcases the iconic rock photographer's works of great legends such as David Bowie, Kurt Cobain, ACDC, James Brown and Thom Yorke. 
For those seeking the literary, the Oliver Twist themed "Art Room" by London-based portrait sculptor James A Matthews is the perfect place to rest your head. Matthews takes his inspiration from the location of the hotel. In 1838, Charles Dickens penned "Oliver Twist" at 48 Doughty Street; a stone's throw from Pullman London St Pancras. Dickens' most famous quotes are scribed on the walls set against bronze sculptures of the characters from his 2nd novel.