Leonardo Hotels to open its first hotel in the UK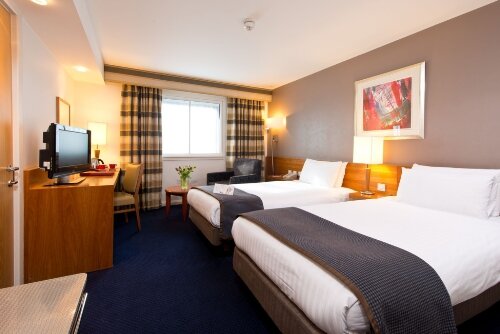 Leonardo Hotel London Heathrow Airport – Opening 16 March 2015
Leonardo Hotels opens its first UK hotel. The group has agreed a new 25-year lease with The Standard Life Investments Pooled Pension Property Fund.
Opening on 16 March in the former Holiday Inn on Bath Road, Heathrow, the 230-room hotel has been re-branded as the Leonardo Hotel London Heathrow Airport. It will benefit from a substantial refurbishment bringing it in line with the distinctive Leonardo Hotels 'look and feel' that is already well established in a growing number of key European cities, such as Antwerp, Berlin, Bruges, Budapest, Frankfurt, Munich, Vienna, and Zurich, as well as across Israel.
Saar Sharon, CEO of Leonardo Hotels UK, is leading the group's expansion in the UK – with Heathrow being the first opening.
David Stewart, Fund Manager of the Standard Life Investments Pooled Pension Property Fund said: "We're delighted to have completed the deal with Leonardo Hotels, which is fast becoming a key player in the European hotels market. Bath Road is a prime asset for the fund and securing a new lease with such a strong covenant is a significant achievement."
Daniel Roger, Managing Director of Leonardo Hotels Europe, added: "We are pleased to announce that with this exciting hotel opening we are now poised for growth in the UK market. London Heathrow is a global hub where we can offer our guests an attractive hotel stay, build our UK business and continue to pursue our rigorous commitment to offer additional European destinations."