Top foodservice trends to spot in 2015 according to experts Hunter VIII Hunter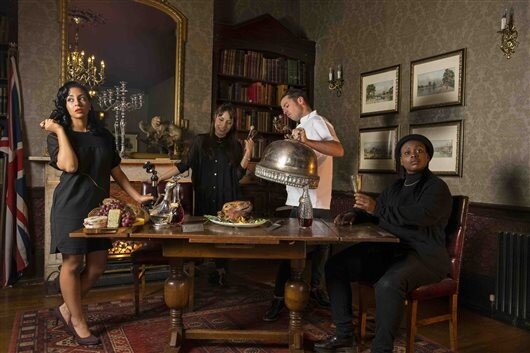 Building on a combined 30 years in catering, from jet-set dining to fashion shoot feasts, the Hunter VIII Hunter team draws upon influences from across the world to create the ultimate in boutique, high-end catering. The group's inimitable style and flair set them apart as the next generation of British caterers.
HVIIIH has been tasked with the creation of high-end private dining tasting menus to party canapés, and is currently in the midst of a busy festive season. Yet, Nicole Richardson, executive chef at Hunter VIII Hunter and Sheine Alexander, events manager, have spared time to share their top trends tips for 2015.
Comfortable comfort food. Evolution of comfort food away fro
m the safe and the nostalgic (as enjoyed during the peak of the recession) to the innovative yet reassuringly comfortable. Hunter VIII Hunter specialise in bringing a new twist to the old favourites, such as this Deconstructed Jaffa Cake.
Reassuring, world-class service as standard. The realisation that you get what you pay for has never been truer than it is today. "For us, excellence comes as standard. We pride ourselves on our service and take the stress out of planning and managing your event, so you can enjoy yourself without worry. This is what you are paying for and this is what you get. Customers are growing weary and wary of paying over the odds for sub-standard service, or paying under the odds and getting what they pay for, which is not a lot!", explains Sheine Alexander at Hunter VIII Hunter.
Sensory stimulation. Fresh and vibrant colours, fragrances, flavours and textures should appeal to all the senses. Yes, it is vital to provide the best ingredients and tastes you can, but singing to the senses is about much more than that. Hunter VIII Hunter believes there is space in catering for more immersive and harmonious sensory experiences.
Taking pride in your sources. As consumers, we all recognise our right to know where our food comes from. As caterers, we agree and we're passionate about identifying the best produce, starting our search close to home. We also recognise the importance of seasonal, fresh ingredients to create the ultimate bespoke menu for our clients. If this means we have to step further afield then we will do so.
Recognising when less is more. We tend to agree with New York journalist Harriet Van Horne who said: "Cooking is like love, it should be entered into with complete abandon or not at all." However, there are times when less is most definitely more. Raw and natural foods continue to be an interesting trend and one we are more than happy to get creative with. Simplification, toning down, slowing down…
Sublime street food. Street food is no longer about the local greasy burger van; it is so, so much more. And, living in London, we're feeling inspired. Hunter VIII Hunter has an eclectic mix of people on board from around the world and across industries, from Anguilla to Crete and fashion to theatre. Inspiration from street food comes in the form of the exceptional, multi-ethnic fusion food we enjoyed at the summer's music festivals, and throughout the year in towns and cities worldwide. We love nothing more than being inspired to experiment with new flavour combinations and build a unique menu packed with original and interesting dishes. Sublime street food is just one of many sources of inspiration – but an exciting one.
(Extra special) food for (extra special) friends. As the fabulous Oscar Wilde once said: "After a good dinner one can forgive anybody, even one's own relatives." Indeed, food for friends is a trend we've witnessed growing in recent months, with rising interest in the idea of throwing a food-related celebration for a friend, organising a special afternoon tea for a family event, hiring help to bring sparkle to a surprise party. While corporate entertaining will continue to be a major part of the catering world, the fact that people are taking such as pride in their private parties is very good to see. Outsourcing help to make a personal celebration even more special, sharing the love through high-class service and exceptional food and drink, elevates the event to a whole new level – showing just how much you care.